As I'm sitting at my laptop in the living room and my 3 year old daughter is watching cartoons on TV (we are both still in our jammies), I get a wonderful ringing sound on my computer. My friend is skyping me to chat. So, what does my precocious little girl do? She comes up to me and says is her most sweetest, sugariest, cutest voice "
Mommy can I PLEASE have just a little piece of your poptart
?" Now how can anyone resist that? So, I let her have a small piece (even though she has already had her breakfast, and I have not yet had even 1 bite).
I continue chatting away with my friend, only to have my little one come up once again, "
Mommy
. . . "
So being the GOOD Mommy who must do what is BEST for my daughter and teach her that she can not always have what she wants. . . I give her the rest of my poptart. :( I know, pathetic, right? So now I sit here with no breakfast and a daughter who is more than satisfied with 2 breakfasts today! Oh the Joys of Mommyhood!
Here is a cute pic of my little Monkey: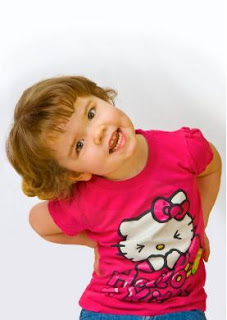 Could YOU resist this face???? ;)