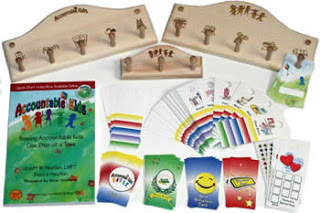 The Accountable Kids Program
Accountable Kids is a unique parenting program designed to teach accountability and responsibility in the home. It is a back-to-basics system which includes essential parenting principles and concrete stepping stones that strengthen relationships and build a foundation for success; an ideal program for
ADHD natural treatment therapy
. Children learn to balance choices and consequences in a fun, productive manner. They experience the joy of being a vital, contributing member of the family and develop confidence and self-worth. The Accountable Kids program includes a book, Quick Start DVD, Progress Board, 50 Reminder Cards, 3 blank Reminder Cards, 10 Tickets, 10 Bonus Bucks, 3 Special Date Cards, 4 Best Behavior Cards, and 2 Privilege Passes, and 2 sticker sheets. The Accountable Kids program provides everything parents need to maximize efforts and bring structure and harmony into the home.
My Review:
I will admit that I am not the most organized person, especially when it comes to schedules, check lists, calendars, routines, cleaning, etc.
On top of that announcement, I often find myself arguing with my kids (especially my oldest) to get their daily chores done.
It stresses me, and my children to constantly be bickering about something as easy as brushing teeth, or putting away toys.
When a friend of mine recommended Accountable Kids, I decided to take a chance and try it out.
After watching their video demo, I knew I had found something that would help myself and my children.
Initially it seemed overwhelming, but I started out slowly with chore cards, discussing what is expected with each child, and using only the reward tickets and stickers (for parent/child dates).
Now, less than 2 months later, we have added the bonus bucks, "treasure box" prizes (to spend extra tickets on), Family prizes (Best Behavior Cards) and are adding the Privilege passes this week too.
It is so much easier for the kids to do what is expected without my constant nagging, though we are still working on a few things – this program has helped greatly!
I even use it for my 3 year old (though I help her with her chores)!
I highly recommend it to any family!
Definitely a 5 star experience!
Click Here
or the picture at the top to go directly to Accountable Kids Website!