Thanks for stopping by Loves 2 Read - today's book tour is Nate Rocks the World.
Nate Rocks the World by Karen Pokras Toz
Book Tour Stop for Dec. 12th
Nate Rocks: Part Super-Hero, Part All-Star Athlete, Part Rock-Star... Part Fourth-Grader?
Ten-year-old Nathan Rockledge cannot catch a break. After all, life as a fourth-grader can be hazardous - what with science projects to deal with and recess football games to avoid. Everyone, including his best friend Tommy, seems to have bad luck when hanging around Nathan. Throw in an older sister who is a royal pain, and a mom who keeps trying to poison him with her awful cooking, and poor Nathan's life as a fourth-grader appears to be completely doomed.
Armed only with his sketchpad, his imagination, and his wits, Nathan Rockledge navigates the perils of the fourth grade in style, to emerge heroic, as Nate Rocks, proving that even a ten-year-old can accomplish great things.
* I asked my 10 year old son, Josh to write his own review of Nate Rocks the World for today's book tour stop. Here is what he had to say about the book: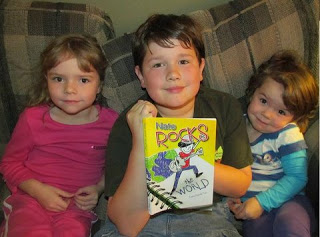 Josh (age 10) reading to his sisters
Review by Josh age 10:
I think Nate Rocks the World is one of the best books I've ever read. I like how he draws comics like I do. My favorite part of the book is when he captured the robbers. You should read Nate Rocks the World. It is a great book for any kid.