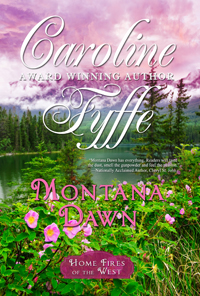 Book One in The McCutcheon Family Series
2010 Maggie Finalist, 2010 Gayle Wilson Finalist , RWA Golden Heart Finalist
"When Luke McCutcheon finds Faith Brown about to give birth in her rickety wagon, his first instincts are to ride for help. Instead, he stays and delivers a beautiful baby girl. Unable to leave the pretty young widow and her little son and newborn unprotected in the Montana wilderness, he brings them along on his family's cattle drive, to the absolute delight of the other friendly cowboys.
Luke, third son of Montana's wealthy McCutcheon family, is different from his brothers. As the offspring of a Cheyenne warrior, he carries a chip on his shoulder for all to see. His flashing eyes and handsome face make Faith feel she's stepped into some long-ago tale where men cherish their women--and keep them safe. If only she could trust him!
Faith is on the run, and although she's pampered and protected by Luke and his family, she just can't risk the consequences of sharing the details of her past--one that's hunting to take her back to the nightmare she's just escaped. Happy-ever-afters are for fairytales, she reminds herself sternly as her heart feels the warm pull of his.
Still, she can't help but dream of a loving family, a home to call her own, a beautiful and bright… Montana Dawn
My Review:
I was captured by this story from the first sentence to the last. I was amazed when I read of Faith's courage and determination. I can't imagine how hard it would have been had I been in her place! Then to have a stranger peek his head in while she's in labor! What a shock! And what happens next is both shocking and funny. . . but of course, I won't tell – you'll have to read it for yourself.
I loved reading about Faith and Luke's budding relationship. Faith is determined to keep her secret and try to protect herself and her children from danger. She also wants to protect the McCutcheon family from any difficulties that might come from helping her. What a struggle! Want to know more? Need to know if Faith and Luke will ever be together? Or will Faith fall victim to the horrible secrets she carries? Read the book to find out more!
I really want to tell you everything I liked about this story, but I hate giving too much information and spoiling the story for those who haven't read it. So, I will say this is definitely a MUST READ! Put any books by author Caroline Fyffe on your TBR list, and make sure to read this book: Montana Dawn, and the sequel that just came out: Texas Twilight (review coming soon).
*Montana Dawn is a clean fiction romance, and I would recommend it for ages 17 and up.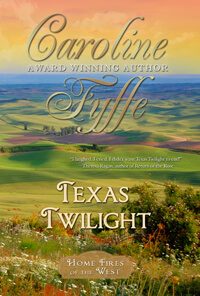 Author Info:
Website ~ http://www.carolinefyffe.com/
TEXAS TWILIGHT, On Sale Now!
MONTANA DAWN
, Laurel Wreath Winner, Maggie Finalist, Gayle Wilson Finalist
WHERE THE WIND BLOWS
, Winner of Write Touch Readers Award