My Review of the BookWedge
~~
with assistance from my 3 kiddos
~~


About BookWedge:
Most reading cushions are filled with beans, beads or stuffing, or made of hard plastic. The BookWedge weighs only 3.5 oz and folds flat when deflated. It reduces strain on the arms and neck by providing support at just the right angle. It also costs less than other book holders.
Lightweight
BookWedge is lightweight - weighs only 3 ounces! It deflates quickly for travel or storage. BookWedge travels flat or can be rolled up!
Ease Of Use
Inflatable bumper holds materials in place. Screens are completely visible. Great desktop accessory!

My Review: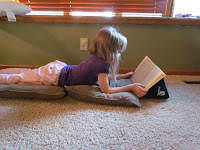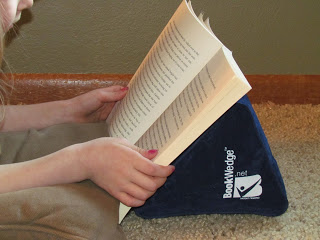 *This is my 7 year old daughter relaxing with the BookWedge while she reads a book for fun.
It makes reading more comfortable while lying on the floor or bed. We love how portable BookWedge is, and how easy it is to store when not in use>
This is my youngest daughter (age 4) reading one of her new books. She loves using both the BookWedge and the
WondaWedge
when reading. (
click here for my review of WondaWedge
)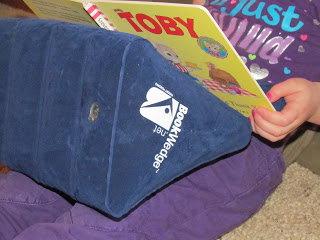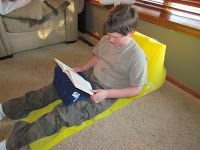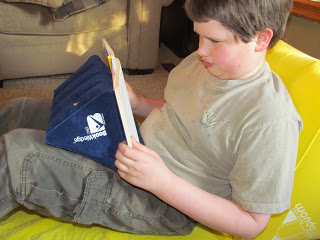 This is my oldest, my 10 year old son. He absolutely loves using both the BookWedge and the WondaWedge for reading. He says "it helps him concentrate better" and "makes my neck feel better" when reading. He also loves to take them both outside to read and relax after a busy day at school!
I have personally used the BookWedge with my Kindle. I like that it holds it up for me and makes it easier on my neck and back when reading. My only complaint is that it seems a bit too "steep" for me while sitting in my chair to read - I wish it was more versatile like the WondaWedge - where each side has a different angle/slope. Otherwise it is a great product and easy to store if not in use.
For more info on WondaWedge and BookWedge:
Visit
BookWedge
~
www.bookwedge.net
And
WondaWedge ~ www.wondawedge.com
* I received a free sample product for this review. All reviews are my personal opinion. See my Policy & Disclosure page for more info.