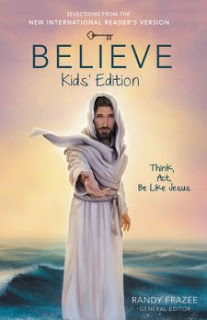 They know the story of the Bible, but do they know what it means?
Adapted from the ground-breaking new Believe campaign from bestselling author and pastor Randy Frazee, the Believe: Kids' Edition takes kids on a thematic tour through the Bible and shows them how to think, act, and be more like Jesus.
As children ages 8-12 walk through the three big categories of Christian life—beliefs, practices, and virtues—they'll begin a journey that will take them closer to the heart of Jesus and deeper
into the words of Scripture. They'll learn what the Bible has to say about everything from the nature of God and the identity of Jesus, to prayer, worship, and the fruit of the Spirit.
Foundational and faith-building, this book can be used by individuals or in conjunction with the all-church campaign.
Review:
The Believe: Kid's Edition is a great resource for children ages 8 and older to read along with their Bible. It teaches more in-depth stories and scripture that helps them see the value of a deep and meaningful relationship with Christ.
My 10 year old daughter has been reading this as a devotional during her nightly scripture reading time. Although it is not her top favorite, she does like it and says that it has discussion questions that make her think and ask me questions she would not have otherwise thought of on her own. She does find that parts of it are a bit "too old" for her but overall we both agree that it is a resource that she will continue reading as she grows and matures.
I would personally recommend it for 10 and up as I feel that some of the discussions and questions are too hard for younger readers, but I also think it is a book that can be read bit by bit as the child (or adult) matures and grows in their faith and understanding!

Disclosure: I received free the item(s) mentioned in this post in exchange for my honest review. Regardless ~ All my reviews are my honest and personal opinion.
I am disclosing this in accordance with the Federal Trade Commission's 16 CFR, Part 255: "Guides Concerning the Use of Endorsements and Testimonials in Advertising.".