Review ~ Wander Dust by Michelle Warren
The Seraphina Parrish Trilogy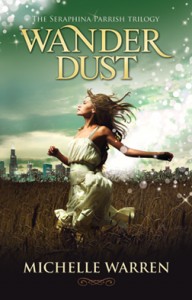 About the Book
:
Ever since her sixteenth birthday, strange things keep happening to Seraphina Parrish.
The Lady in Black burns Sera's memories.
Unexplainable Premonitions catapult her to other cities.
The Grungy Gang wants to kill her.
And a beautiful, mysterious boy stalks her.
But when Sera moves to Chicago, and her aunt reveals their family connection to a centuries old, secret society, she is immediately thrust into an unbelievable fantasy world, leading her on a quest to unravel the mysteries that plague her. In the end, their meanings crash into an epic struggle of loyalty and betrayal, and she'll be forced to choose between the boy who has stolen her heart and the thing she desires most.
Wander Dust is the breathtaking fantasy that will catapult you through a story of time, adventure, and love.
My Review
:
The author, Michelle Warren, immediately had my interested from the first chapter. I enjoyed reading this unique story. I empathized with Sera's story, and all the unexpected twists and turns throughout the book. The characters were well-formed and drew my interest. This is an amazing book, and I'm anxious to see what happens in the next two! Great read! Wonderful imagination, and intriguing story! Definitely a book I will read again!
About the Author
:
Michelle Warren
is the author of
Wander Dust
, the first book in
The Seraphina Parrish Trilogy
. She didn't travel the road to writer immediately. First, she spent over a decade as professional illustrator and designer. Her artistic creativity combined with her love of science fiction, paranormal, and fantasy led her to write her first YA novel. Michelle loves reading and traveling to places that inspire her to create. She resides in Maryland, in a historic Baltimore row-home, with her wonderful husband.
To find out more about this book and the author
Website
: http://wanderdusttrilogy.com/
Facebook
: http://www.facebook.com/pages/Michelle-Warren-YA-Author-of-Wander-Dust/124362290972713
Goodreads
: http://www.goodreads.com/book/show/11250674-wander-dust
Twitter
:
http://twitter.com/#!/MMichelleWarren
Book Traile
r - You Tube ~ http://www.youtube.com/user/MichelleWarrenAuthor/videos
*I received a free ebook copy of this from the author for my review. My opinions are my own. See my Policy & Disclosure page for more info.