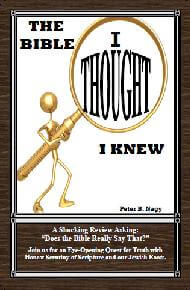 The Bible I thought I knew
by Peter B. Nagy
Description:
The Bible is filled with mysteries and thoughts all its own. "The Bible I Thought I Knew" is a collection of thoughts and opinions on the Bible, as Peter B. Nagy offers what he has found in his studies, hoping to answer many questions of the history and dispel some of the folklore that has been accepted as Biblical fact. Offering much to think about on faith and what we believe, "The Bible I Thought I Knew" is well worth considering for those with an interest in what hides behind the Good Book.
Review:
This book has some interesting insights into questions many people ask themselves when reading the Bible. In each Chapter and section of the book, the author posts a scripture reference to show what it is he is trying to explain, and where he is getting his information. This book would make a nice addition to a Bible Reader's Library. Full of humor, scripture, biblical insights and reference.
Author BIO:
Peter is a self-published author of the shocking and unique new Bible study book, "The Bible I Thought I Knew". He and his wife hosted a weekly half hour Messianic radio program from June 09 thru Nov. 09. His passion is a focus on our Jewish roots throughout the Bible and how it has evolved and sometimes even changed over the centuries. His desire is to share with his fellow believers some of the amazing discoveries that he has uncovered. Two or three surprising topics are Bible trivia, but dozens of subjects are significant. He urges his readers not to believe just any information, whether in his or any book; look it up and verify it for yourself.
This book is available on sites below.
Author website
:
Barnes and Noble
:
Dightmans Bible Bookstore in Tacoma WA
:
Google Books
:
Ebook available through
Smashwords
: