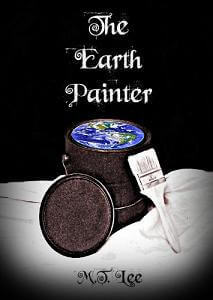 The Earth Painter
by Melissa Turner Lee
Description:
When a self-conscious young woman discovers the boy in drama class is actually the immortal who painted the world into being, she becomes the target of another painter who hates humanity. The Earth Painter is a Young Adult Supernatural Romance set in the small mill town of Chesnee, SC. It revolves around Holly Scruggs, who's family has just moved back to Chesnee after her dad lost his job along with pretty much everything they owned. Her image conscious parents correct her to the point of brokenness until she meets Theo. He is the artist responsible for all the beauty of the land and he thinks Holly is beautiful too. Together they will fight against Fritz, the water painter who hates humans and is hiding a secret under the high school.
Review:
This is a dynamic book, full of surprises, young romance, and determination. I loved reading along as Holly finds her place in a new school, makes a few friends, and develops a crush on a boy who just happens to be unable to experience true emotion (including love). Holly's character drew me into this book immediately. I could empathize with her emotional struggles, and her determination to make her way in difficult circumstances.
I can see that author Melissa T. Lee spend time and effort to develop her characters and her story. I recommend this book to young teen through adult readers. Make sure to check out Melissa Turner Lee's other books, especially "The Difference Between Night and Day" (review to come soon).
About the Author:
I'm a wife and mom of three crazy little boys. I hold a degree in Journalism and Marketing and I love great books that take me far far away. That's why I write Young Adult Paranormal Romance.
Where to find Melissa Turner Lee online:
Ways to get a copy of The Earth Painter:
#1) Buy the ebook from Amazon.com or BarnesandNoble.com or Smashwords.com
#2) Win a
FREE
Kindle version on this blog, during my
Gratitude Giveaway
hop Nov 17th - 27th!
#3) Win a
FREE
Kindle version on
Loves 2 Read
blog on Nov. 30th!