Nate Rocks the World by Karen Pokras Toz
Nate Rocks: Part Super-Hero, Part All-Star Athlete, Part Rock-Star... Part Fourth-Grader?
Ten-year-old Nathan Rockledge cannot catch a break. After all, life as a fourth-grader can be hazardous - what with science projects to deal with and recess football games to avoid. Everyone, including his best friend Tommy, seems to have bad luck when hanging around Nathan. Throw in an older sister who is a royal pain, and a mom who keeps trying to poison him with her awful cooking, and poor Nathan's life as a fourth-grader appears to be completely doomed.
Armed only with his sketchpad, his imagination, and his wits, Nathan Rockledge navigates the perils of the fourth grade in style, to emerge heroic, as Nate Rocks, proving that even a ten-year-old can accomplish great things.
My Review:
When I saw the cover for
Nate Rocks the World,
I was immediately interested. As the mom of a 10 year old son who is reluctant to read, I am always on the lookout for books that will draw his interest. His preferences tend to run to books like
Diary of a Wimpy Kid
or
Captain Underpants
. I have purchased numerous books from the stores and through books clubs that I felt would interested a boy his age, only to see them remain on his bookshelves unless cooerced (or bribed) to read them. So when the opportunity came my way to review for author,
Karen Pokras Toz
, I was excited. To finally find a book that was geared toward my son's reading level and (hopefully) his interest level!
As I read this book, I found some interesting similarities between the main character, Nate Rockledge, and my son. Both boys are 10 years old, in fourth grade, have sisters (though mine is the oldest and does not have an older sister), love drawing comics and using his imagination! What a find! As the story progressed, I myself was entertained by Nate's mind, and his way of dealing with difficulties that most fourth graders deal with. I loved this book from start to finish! My son has just began reading it, and promised to let me know what he thinks so I can post "his review" on Dec 12th during the
Nate Rocks the World
book tour! I'm hopeful that I'll get more than "it's ok" from him.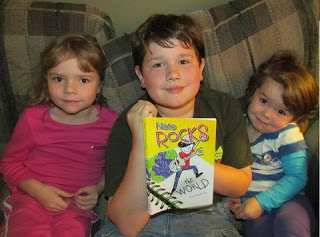 My son Josh (10) reading to his sisters (7 & 3)
Nate Rocks the World is a great book for any boy (or girl) in the 7 to 14 age range, in my opinion. I look forward to reading more by
Karen Pokras Toz
!
Check out
Karen's website
for a book trailer of
Nate Rocks the World
and more exciting things ~ including
pictures of some adorable kids
(including mine) reading
Nate Rocks the World
!
*Disclosure: I received a free copy of this book in hopes that I would post a review on my blog. See My Policy & Disclosure for more info.