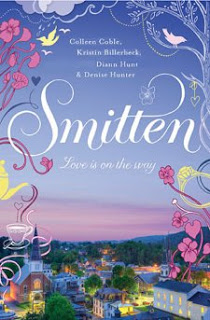 Summary:
Four friends devise a plan to turn Smitten, Vermont, into the country's premier romantic getaway-and each finds her own true love along the way.
With Smitten Lumber closing, residents wonder if their town can stay afloat. Then four friends and local business owners-Natalie, Julia, Shelby, and Reese--decide the town is worth saving. How will they do it? They'll turn Smitten into a honeymoon destination!
As Natalie, Julia, Shelby, and Reese work to save the town, each discovers romance in her own life. Meanwhile, the faith of a little child reminds the whole town what it means to have real faith in the God who is the always and forever Love.
My Review
:
Colleen Coble, Kristin Billerbeck, Denise Hunter and Diann Hunt with their new book "Smitten."
"Smitten" is the first book in the Smitten series by these wonderful authors.
The four authors have joined together to bring us four stories about four friends.
These four women try to save the town of Smitten, Vermont by making the town into a romantic destination that plays upon the town's name "Smitten."
The town's lumber mill has shut down and many people have lost their jobs.
The friends fear that their town is in danger of becoming like a ghost town.
In order to bring more people to Smitten, Vermont the ladies devise a plan to capitalize on the name Smitten by making the town such that newlyweds and honeymooners, along with skiers and other travelers would want to vacation there.
I loved how the stories flow from first to final, how each woman's reaction to the difficulties and potential romance kept my interest from the first words to the very end.
I don't want to tell too much as I prefer not to spoil it for others, but this is definitely a worthy read.
I can't wait to read the next book in the series!
These four authors have done a wonderful job of creating a masterpiece as each author writes from a different woman's perspective.
I love how each woman shares her own story, yet they are all four joined together to create one unique, humorous and creative book.
Definitely a must read!
* I received a copy of this book for review purposes. Please see my policy and disclosure page for the full FTC disclosure.