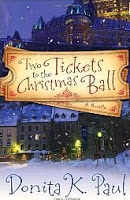 Two Tickets to the Christmas Ball by Donita K. Paul
I found to be a much different Christmas story than I was expecting. I found this one to be hard to get into at the beginning. The story is about 2 people (Cora and Simon) who have worked together for 5 years and have rarely if never spoken. They are drawn together through a series of "coincidents" that start while they both are at an old fashioned bookstore on a street that is out of the way and for most not even there!! As things continue they discover that they both receive tickets to a Christmas Ball that seems a bit mysterious. It is an attempt to start a romance between the two of them.
As the story progresses Cori's dysfunctional sister comes into the story line and adds another angle to this story. ....without her the story would have lost a lot of it's magical twist.
I give this a 3.5 out of 5. The magical aspect was a twist I did not expect, but yet did not detract from the christian aspect of the story. Was a quick read, but not one of my favorites.
* In accordance with the Federal Trade Commission's 16 CFR, Part 255: "Guides Concerning the Use of Endorsements and Testimonials in Advertising;" I am disclosing that: I received a free copy of this book from WaterBrook Multnomah books through Blogging for Books website. I was in no way compensated for publishing my personal review