Dead Running
Cassidy Christensen is running.
Running from the mercenaries who killed her parents.
Running from a scheming redhead intent on making her life miserable.
Running from painful memories that sabotage her dreams of happiness.
With two very tempting men competing for her attention, she hopes she'll finally have someone to run to, but can she trust either of them? When secrets from her past threaten her family, Cassidy decides to stop running and fight for her future.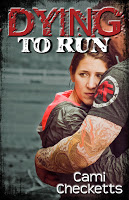 Cassidy Christensen wants to run.
Captured by the traffickers who killed her mother, her only hope is Dr. Tattoo, a man she loves but nobody trusts. When she finally gets a chance to run, someone else she cares about is taken. Running might be her only chance at survival, but she won't allow another family member to be killed in her place.
This must-read sequel to Dead Running will have you laughing, biting your nails, and hoping for more.
Dying to Run – Excerpt
A dark-haired man was playing with his phone in the corner, his broad arms covered with tattoos. He looked tantalizing in a gray T-shirt and jeans. Jesse. Joy and safety encompassed me as I studied his handsome profile, wishing he would look up and rush to my side. My legs could hardly support me.
"What have we here?" The speaker was more tiger than man, right down to the tawny hair and flashing eyes. He looked me over like I was an antelope he wanted to rip apart with his teeth.
Jesse's head snapped up. "Cassidy!" He jumped to his feet and crossed the distance between us in long strides. The anger in his dark gaze pulsated through the room. I cowered, even though I was pretty sure his fury wasn't directed at me.
Damon whipped me around to his other side, lifting a hand in a futile attempt to shield us.
Another man yelled, "No, Jesse! Think!"
Jesse ignored the man, pushing Damon out of the way with one arm while pulling me to him with the other. A bull couldn't have withstood the raw power emanating from him. Damon slammed into a hard chair.
Jesse wrapped his arms around me, his touch a soothing balm to all my aches, pains, and fears. "Oh, Cassidy," he murmured against my cheek.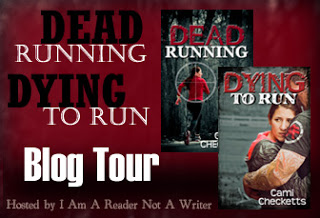 My Review of Dead Running
:
Dead Running is the first book by author Cami Checketts that I have read. I loved the main character: Cassidy. She is hilarious, determined and quirky. Her character kept my interest in this unique story from start to finish.
Through danger, fatigue and being pushed into joining a race, she kept me on the edge of my seat and my funny bone more than satisfied. There were a few parts, mostly with her family that seemed a bit slow for me, but I think it's mostly due to all the back and forth and humor mixed with crazy danger that made the more "normal" parts seem a bit slow reading.
Overall this book is well worth the price! I look forward to reading more in this series.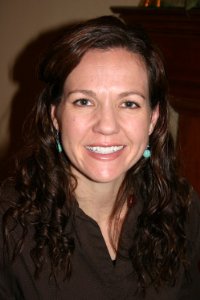 Author Cami Checketts
Cami Checketts is married and the proud mother of four future WWF champions. Sometimes between being a human horse, cleaning up magic potions, and reading Bernstein Bears, she gets the chance to write fiction.
Cami graduated from Utah State University with a degree in Exercise Science. Cami teaches strength training classes at her local rec and shares healthy living tips on her fitness blog:
http://fitnessformom.blogspot.com
.
Cami and her family live in the beautiful Cache Valley of Northern Utah. During the two months of the year it isn't snowing, she enjoys swimming, biking, running, and water-skiing.
Go HERE for a Great GIVEAWAY for this tour only
Prizes are:
$50 Amazon Gift Card or Paypal Cash
$50 Gift Card to Running Chics
Ends 1/31/13

I received one or more books or products in the post above for review purposes only. I was in no way required to write a positive review. All my reviews are my honest and personal opinion
. If you have any questions or comments, please see my FTC disclosure or Review Policy.