Spirit Fighter
by Jerel Law
Percy Jackson, move over! Jonah Stone is here!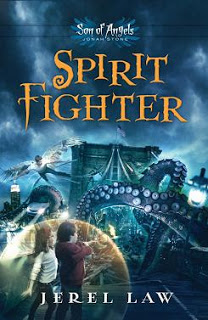 What if Nephilim—the children of angels and men—still walked the earth? And their very presence put the entire world in danger? In
Spirit Fighter, Jonah and Eliza Stone learn that their mother is a Nephilim and that they have special powers as quarter-angels. When their mom is kidnapped by fallen angels, they must use those powers to save her. Along the way, they discover that there is a very real and dangerous war going on between good and evil and that God has a big part for them to play in that war.
**Parents today are looking for fiction that makes Christianity and the Bible exciting for their kids. This series is the Christian answer to Percy Jackson and the Olympians, The Kane Chronicles, The Secret Series and other middle-grade series packed with adventure, action, and supernatural fights. Son of Angels, Jonah Stone will be the first series in the market to explore this topic from a biblical perspective with content that is appropriate and exciting for middle-grade readers.
My Review :
Wow! Spirit Fighter is an amazing book! I was completely enthralled with the story from the very beginning. I loved the depth of emotion and realistic situations that Jonah faced in the first few chapters. Then to lead into the paranormal portion, where he finds out he is part "Angel" was captivating. I loved this book and could not put it down.
Jonah and Eliza are faced with difficult situations beyond their control, and through each encounter find that as their faith in God grows, they become stronger and are able to defeat the Enemies' forces. Using their knowledge of scripture, their growing faith and trust in God, and each other; they are able to face the enemy and accomplish things that no mortal could ever imagine being able to do.
This book shows young people, (and older ones like me as well) that we truly can do amazing things when we trust God's instructions, rely on Him and remember that "faith" is the key!
Some of my thoughts as I was reading along:
* I know my son will LOVE this if he reads it.
* My daughter will love this in a couple more years!
* This is a great book for school libraries to have on hand.
Yes, this is a Christian Fiction book that is full of adventure, danger, and faith in God. Young boys will love this, and young girls will as well! Having the main characters, and hero/heroine in the story be a 13 year old boy and his 11 year old sister will interest young readers everywhere. I highly recommend this book for kids ages 9 to 109 (even "big kids" will love it too!)

I received one or more books or products in the post above for review purposes through Thomas Nelson. I was in no way required to write a positive review. All my reviews are my honest and personal opinion . If you have any questions or comments, please see my FTC disclosure or Review Policy.