A Duke's Promise
by Jamie Carie
ABOUT THE BOOK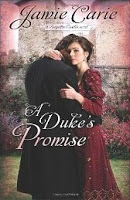 From the Land of Fire and Ice back to England's shores, Alexandria Featherstone finds herself the new Duchess of St. Easton. Her husband has promised a wedding trip to take them to the place where her imperiled parents were last seen -- Italy and the marble caves of Carrara -- but a powerful Italian duke plots against Alex and her treasure-hunting parents.
Hoping to save them, Alex and Gabriel travel to Italy by balloon. Fraught with danger on all sides and pressured by Gabriel's affliction to the breaking point, they must learn to work and fight together. The mysterious key is within their grasp, but they have yet to recognize it. This journey will require steadfast faith in God and each other -- a risk that will win them everything they want or lose them everything they have.
If you would like to read the first chapter of
A Duke's Promise
, go
HERE
.
My Review
:
**My book has not yet arrived, so my review will be posted at a later date**
*Read my review of Book 1 Guardian Duke
HERE
*Read my review of Book 2 Forgiven Duke
HERE
ABOUT THE AUTHOR: