Money Savvy Pig Bank
for kids
An effective and entertaining way to teach your children the basics of personal finance.
From the website
: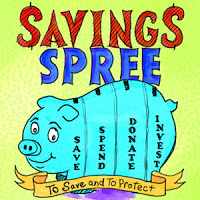 One slot piggy banks have been around for....centuries. But the world has changed. Now we have a highly sophisticated financial system, a system whose complexity has outstripped the ability of most adults, many of whom grapple with credit card debt, even bankruptcy.
Personal finance education needs to start young. How? With the same universally loved childhood toy, the piggy bank....but with a 21st century twist! The Money Savvy Pig piggy bank has four chambers, one for each of the four money management choices a child should be taught from the time they are small. They are SAVE, SPEND, DONATE, and INVEST.
My Review
:
My 7 year old daughter immediately asked if she could have this cute piggy when it arrived in the mail (hers is purple). She has since put her money from chores and such into each of the compartments. She has a little in the "Spend" part, most of it in "Save" and a little in "Donate" (for church offerings - according to her), but she was confused as to what "Invest" meant.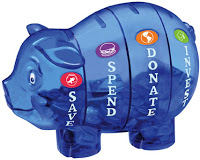 I found this to be a great opportunity to explain to her about saving her money to later put in the bank in her own savings account, as well as later when she is a older, "investing" some in different companies, or savings bonds. We had a fun conversation about the different ways she could spend, save and donate her money that she earns.
This cute pig is made of hard plastic and each of it's adorable little legs has an opening on the bottom with a twist cover that helps make it easier to remove coins and paper money when needed. The compartments are surprisingly larger than I expected and can hold quite a bit of money. My daughter and I both think this pig is absolutely adorable, and she finds it a fun way to organize her money. Now my youngest daughter wants one for herself as well! This is a great way to teach kids about taking care of their money and learning how to save for future spending.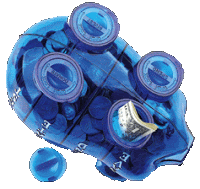 The award-winning Money Savvy Pig
Available in six colors (

blue

,

red

,

pink

,

green

,

purple

,

platinum

)
Click here to order. . .
For more information on this cute pig, or on more of the Money Savvy Teaching tools, visit Money Savvy Generation at http://www.msgen.com/assembled/home.html
find them on facebook at
#/MoneySavvyGeneration

I received one or more books or products in the post above for review purposes only. I was in no way required to write a positive review. All my reviews are my honest and personal opinion
. If you have any questions or comments, please see my FTC disclosure or Review Policy.