Introducing a

new title for middle graders that I thought might be of interest to most of my readers 
Maybe He Just Likes You by Barbara Dee
Barbara Dee explores the subject of #MeToo for the middle grade audience in this heart-wrenching—and ultimately uplifting—novel about experiencing harassment and unwanted attention from classmates.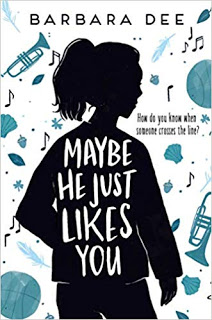 For seventh-grader Mila, it starts with some boys giving her an unwanted hug on the school blacktop. A few days later, at recess, one of the boys (and fellow trumpet player) Callum tells Mila it's his birthday, and asks her for a "birthday hug." He's just being friendly, isn't he? And how can she say no? But Callum's hug lasts a few seconds too long, and feels…weird. According to her friend, Zara, Mila is being immature and overreacting. Doesn't she know what flirting looks like?
But the boys don't leave Mila alone. On the bus. In the halls. During band practice—the one place Mila could always escape.
It doesn't feel like flirting—so what is it? Thanks to a chance meeting, Mila begins to find