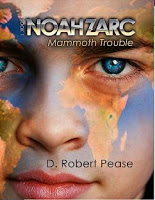 I was searching through the Free Kindle ebooks on Amazon.com and found that Noah Zarc Mammoth Trouble is currently FREE!
So for all you who commented on the contest, and wanted to read this amazing book, this is your chance! Download it today!
Don't own a Kindle! No problem - you can download a FREE kindle for PC program and read it right on your computer!
LINK: http://www.amazon.com/Noah-Zarc-Mammoth-Trouble-ebook/dp/B005H5GFNE/ref=zg_bs_digital-text_72
Haven't heard of Noah Zarc ????
Click here
to read my review and more about this wonderful book!