From Amazon.com: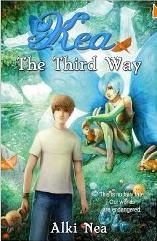 It all started when Kea and Leo came to visit at the end of last summer.
They were in their early teens, but talked as adults who've been
through a lot. And they had! They wanted me to write their story. Kea
said it had deep implications for the future. I only understood what she
meant when she opened her ... I'm carried away; I should start from the
beginning, after Kea's house burnt mysteriously and they had to flee
from a dark organization that hunted them farther than New York, and ...
No, hold on, that's not the most important. What is, is how solemn Kea
was that day when she explained me that some things are difficult to
understand when you are standing in the middle of it. You have to step
aside and see it from a different perspective to comprehend its nature
and significance. For Kea, she had to go into a mystifying world to
understand how alarming the Sixth extinction is. And we are all
responsible. This is her story.