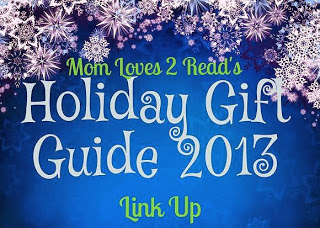 Blogger Friends!
Do you have a Holiday Gift Guide planned for this year?
Would you like to have other bloggers help promote your HGG?
Are you planning any giveaways of products on your HGG 2013?
Then feel free to link up here!
Rules?  Do we need Rules?
Well, how about fun facts instead . .
.
Fun Fact
~ this is a link up for bloggers who post a Holiday Gift Guide on their blog.  If you do not know what a Holiday Gift Guide is, but would like more info - please feel free to email me:  momloves2read(at)gmail(dot)com
Fun Fact
~ bloggers who post should use the direct and correct URL of their HGG post on the top linky ~ and the direct URL of giveaways on the bottom linky - correct link in correct linky spot - if the URL is not correct, I will have to remove it from the linky
Fun Fact
~ we all get more promotion and notice when we help each other - so if you post a link, please share, tweet, pin/repin, visit, comment, etc on ALL other HGGs  ~ after all that is the whole point behind this link up ;)
Fun Fact
~ you never know what products, books, sponsors you might find on other bloggers posts - so if you find something you like, it would be very nice if you leave a comment for that blogger letting them know!  It is a wonderful reward for hard work to have someone comment that they liked something I did!
Fun Fact ~
as a nice "thank you" for hosting this link up - please grab my button & link and post on your sidebar or just post my link on your blog somewhere - please let everyone know where they can link up!
Fun Fact
~  if you have giveaways that are NOT related to a Holiday Gift Guide - please list them on my
Giveaway Link Up
not here! This is ONLY for Holiday Gift Guides and HGG related Giveaways
Thanks - Have FUN!