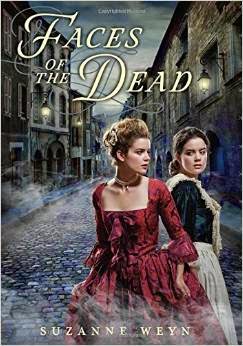 When Marie-Therese, daughter of Marie Antoinette, slips into the streets of Paris at the height of the French Revolution, she finds a world much darker than what she's ever known.
When Marie-Thérèse Charlotte of France learns of the powerful rebellion sweeping her country, the sheltered princess is determined to see the revolution for herself. Switching places with a chambermaid, the princess sneaks out of the safety of the royal palace and into the heart of a city in strife.
Soon the princess is brushing shoulders with revolutionaries and activists. One boy in particular, Henri, befriends her and has her questioning the only life she's known. When the princess returns to the palace one night to find an angry mob storming its walls, she's forced into hiding in Paris. Henri brings her to the workshop of one Mademoiselle Grosholtz, whose wax figures seem to bring the famous back from the dead, and who looks at Marie-Thérèse as if she can see all of her secrets. There, the princess quickly discovers there's much more to the outside world - and to the mysterious woman's wax figures - than meets the eye.
My Review
:
This was not quite what I thought it would be when I chose to read and review this story. Parts of it were difficult to read and annoying as it dealt with Voodoo and witchcraft and damage to dead friends and loved ones. I started out becoming interested in the characters and the story as well as the historical aspects of the book, but soon found I was only reading to try to get to the end to see what happens. Overall I wasn't as thrilled with this story by the time the story was over and would not read it again.

Disclosure: I received free the item(s) mentioned in this post in exchange for my honest review. Regardless ~ All my reviews are my honest and personal opinion.
I am disclosing this in accordance with the Federal Trade Commission's 16 CFR, Part 255: "Guides Concerning the Use of Endorsements and Testimonials in Advertising.".