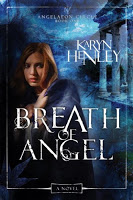 Synopsis from book:
The stranger's cloak had fallen back, and with it, a long, white, blood-stained wing.
When Melaia, a young priestess, witnesses the gruesome murder of a stranger in the temple courtyard, age-old legends recited in song suddenly come to life. She discovers wings on the stranger, and the murderer takes the shape of both a hawk and a man.
Angels. Shape-shifters. Myths and stories—until now.
Melaia finds herself in the middle of a blood feud between two immortal brothers who destroyed the stairway to heaven, stranding angels in the earthly realm. When the feud turns violent and Melaia becomes a target, she finds refuge with a band of angels attempting to restore the stairway. But the restoration is impossible without the repayment of an ancient debt—the "breath of angel, blood of man," a payment that involves Melaia's heart, soul, and destiny.
My Review:
Melaia is a 16 year old girl who is training to become High Priestess. Her life is simple and sheltered at the temple with the other young priestess in training. She is satisfied with her role, until the day a stranger arrives at the temple and she witnesses his murder by a hawk. Or so she thought . . . until the hawk turns into a man.
"Breath of Angel" is a coming of age type story mixed with the struggle between good and evil. Melaia is mixed up in the middle, even more than she can possibly imagine. Her High Priestess tells her to stay out of the affairs of Angels, but somehow she finds herself so deeply involved in their struggle with the malevolent angels, that her life is irrevocably changed in a matter of days. She meets both friend and foe along her journey, and begins second guessing her ability to discern which is which.
This book is definitely not a "light read," but I really enjoyed the concept, characters and struggles from beginning to end. The story left me wanting more – which is always good! Though most of the wording in the book had a nice easy flow, there are some places where I felt I needed to go back and re-read to make sure I could understand what the author was trying to say. For that reason, I give this book a 4 out of 5. I love the characters, the idea of the story line and am anxious to see what happens in the next book.
posted 5/5/11
*I received a copy of this book, free from
Blogging for Books
, for the purpose of reading and posting a review. I was in no way influenced by the author or publisher ~ all reviews I post are my own and my honest opinion! For more information, see my FTC disclosure under the "policy & disclosure" page