Introducing a

new title for middle graders that I thought might be of interest to most of my readers
Maybe He Just Likes You by Barbara Dee
Barbara Dee explores the subject of #MeToo for the middle grade audience in this heart-wrenching—and ultimately uplifting—novel about experiencing harassment and unwanted attention from classmates.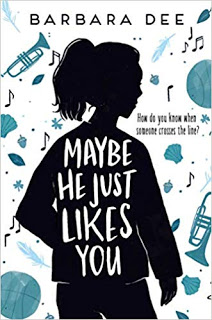 For seventh-grader Mila, it starts with some boys giving her an unwanted hug on the school blacktop. A few days later, at recess, one of the boys (and fellow trumpet player) Callum tells Mila it's his birthday, and asks her for a "birthday hug." He's just being friendly, isn't he? And how can she say no? But Callum's hug lasts a few seconds too long, and feels…weird. According to her friend, Zara, Mila is being immature and overreacting. Doesn't she know what flirting looks like?
But the boys don't leave Mila alone. On the bus. In the halls. During band practice—the one place Mila could always escape.
It doesn't feel like flirting—so what is it? Thanks to a chance meeting, Mila begins to find
solace in a new place: karate class. Slowly, with the help of a fellow classmate, Mila learns how to stand her ground and how to respect others—and herself.
From the author of Everything I Know About You, Halfway Normal, and Star-Crossed comes this timely story of a middle school girl standing up and finding her voice."
About the Author:
Barbara Dee is the author of several middle grade novels including Maybe He Just Likes You, Everything I Know About You, Halfway Normal, and Star-Crossed. Her books have received several starred reviews and been included on many best-of lists, including the ALA Rainbow List Top Ten, the Chicago Public Library Best of the Best, and the NCSS-CBC Notable Social Studies Trade Books for Young People. Star-Crossed was also a Goodreads Choice Awards finalist. Barbara is one of the founders of the Chappaqua Children's Book Festival. She lives with her family, including a naughty cat named Luna and a sweet rescue hound dog named Ripley, in Westchester County, New York.
Rosie Reviews
:
I was able to read this book in less than two hours. I found that I could not stop reading. I wasn't sure that I wanted to read it but my mom told me she wanted me to read it and help with a review so I agreed.
I would recommend this book to any kids (boys should read it too) ages 9 and up, especially those in 6th grade like me and in Jr High and High School. My big sister read it too and she said the same thing about it that I did.... this book is SO GOOD.
This is the type of story that makes you emotional and kind of uncomfortable at times, but is so important to read because it really does happen in real life. My sister and I both have had boys say things and do things that made us uncomfortable and we just didn't know what we should do about it. I like how Mila tries to tell her friends how uncomfortable she is and how two of her friends did try to stick up for her. I didn't like that Zara wasn't a good friend and wouldn't listen. If one of my friends tells me she is having problems with someone I try to listen and go with her to tell an adult. It is important to stick up for yourself.
This is a really good story and one that I am going to recommend to my friends to read!
Susan's Review
:
Mila's story is one that is all too common and often overlooked in our culture. As several times it stated in the book, other students and even adults tell Mila that she is "over reacting" to the situation. She thankfully is determined and continues to try to fight back and speak out in her own way, but it becomes difficult to know who to trust. Nobody should have the right to harass or touch another person in any way that makes that person uncomfortable. This well-written story affirms Mila's anger, confusion, and fear during each confrontation, but also highlights the importance of speaking up and speaking out against harassment.
I was thrilled with the depth given to each of the characters in the story and how well the author creates a realistic world with characters that act in age appropriate manners. The adults in the story are all-too realistic in how they each handle the situation presented by Mila. The way in which Mila finally conquers her fear and "speaks out" is humorous and serious at the same time, though I do not condone how it was accomplished, I do applaud her for her bravery and determination to finally make herself heard.
This book should be in all school libraries, in every teacher's list of required reading. For those who have been on the receiving end of unwanted touch or uncomfortable words will be relieved to find there are many others who have been through it too. Boys of all ages will be able to get insight into what it feels like to be on the receiving end of the "harmless" jokes and innuendoes and maybe refrain from participating in this inappropriate harassment. And to finally have a book that shows how common sexual harassment is for young girls and boys and that it is not your fault, you are not overreacting, you are not alone and you do have a voice...speak out! And if they don't listen...keep speaking until they hear you!
Maybe He Just Likes You by Barbara Dee
Aladdin
Available October 1, 2019
Hardcover $17.99 Ebook $10.99
Ages 9-13
304 pages

Disclosure: I received free the item(s) mentioned in this post in exchange for my honest review from Media Masters Publicity. Regardless ~ All my reviews are my honest and personal opinion.
I am disclosing this in accordance with the Federal Trade Commission's 16 CFR, Part 255: "Guides Concerning the Use of Endorsements and Testimonials in Advertising.".