Hello
Friend! Looking for More great giveaways to enter? Here are some of my blogger friends who have a whole list of giveaways available to enter. . . check them out!

Ongoing
:
Random Mommy
Weekly
:
Ongoing
:
Weekly
:
Maple Leaf Mommy
~ Resets every Thursday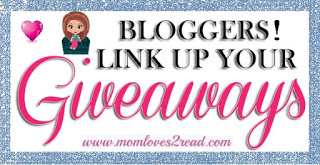 Blogger Friends ~ do you host a giveaway Linky on your blog? Then you need to promote them here!
Adding your giveaway linkys to other sites helps promote your linky! Add our ongoing giveaway linky hosted on Mom Loves 2 Read to your linky list or add our button to your sidebar. In exchange we will gladly add your list to ours (or your button to our sidebar!)
Email Susan @ momloves2read(at)gmail(dot)com with the direct link to your giveaway linky and also mention where you have listed our link.
Let us help you promote your list to provide more free exposure for your giveaways. More exposure = more traffic and more entries!