December 7, 2011 Tour Stop for Sea Turtle Summer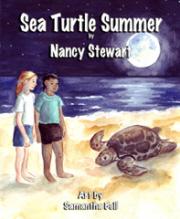 Sea Turtle Summer
by Nancy Stewart



Bella and her best friend, Britt, think living by the beach is the best thing ever. When they discover an unprotected sea turtle's nest, they go into action! But what can they do, and what lesson do they learn about themselves? This book contains kid-appealing sea turtle facts, too!


Sea Turtle Summer recently hit #1 on Amazon's "Hot New Releases" in Children's Books!
Excerpt from Sea Turtle Summer
Next morning, the girls looked carefully at the nest, making sure not to touch it.

"Our stick's still here, and everything seems okay," observed Britt.

Bella sighed. "But there's no sign of the ranger."

"And here comes the sand cleaner!" cried Britt. "We have to do something fast."

"Quick! Hold hands across the nest. Maybe he'll stop in time!" Bella yelled.

The sand cleaning machine came to a squealing stop right in front of the girls. "What do you two think you're doing?" bellowed the startled driver. "You could have been hurt!"

"We're saving sea turtles!" they both shouted over the noisy vehicle.

"Sorry, girls, but volleyball nets are going up right here in a few minutes," said the driver. "There's an all city play-off this morning."

"Oh, no," Bella sighed. "What about the nest?"
My Review
:
Sea Turtle Summer is a cute and informative book about two determined children who go to great lengths to save a nest of sea turtle eggs. Bella and Britt see a sea turtle laying its eggs in the sand. They try to inform the park ranger, but are told that the ranger is ill and won't be able to protect the nest. They decide to get up early in the morning to keep the sand sweeper and volleyball nets from damaging the fragile nest and eggs. I enjoyed reading this book with my 3yr old and 7yr old daughters. We really enjoyed the pictures and the story of two young children doing what they felt was right to protect the precious life of the unhatched turtles.
This book is a wonderful example of determination, helping others and protecting life. Not only is it a cute story by informative as well. A wonderful read for any child!
Book Tour Hosted by Pump Up Your Books!
* I received a free copy of this book in hopes that I would post a review on my blog. For more info see my Policy & Disclosure Tab/Page