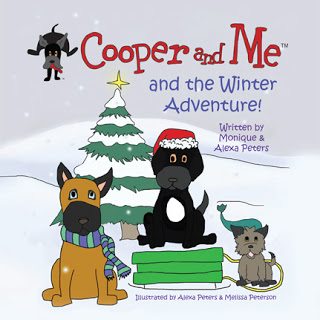 Summary:
Cooper and Bella can't wait to go sledding, but what happens when they wander a little too far from home and a snowstorm makes it difficult to find their way back???

More Info :
This book provides a wonderful opportunity to teach children the importance of making good decisions and the gentle lesson of how to be prepared in case they get lost. This book, along with all the other books in the Cooper and Me series, includes these interactive Features:
• A Special Memory Creation
• Life Lesson
• Connections
• Learning Together
In fond memory of Marc Lustgarten and to honor him, $1 of every Winter Adventure book sold at events and and on our website through February 2012, will be donated to the Lustgarten Foundation
(
http://www.lustgarten.org/
)
Also, my friends at Cooper & Me will be offering an EXCLUSIVE DEAL FOR MY BLOG READERS:
Make any purchase of $25 or more at
CooperandMe.com
and get FREE SHIPPING now through December 15.
MUST USE THIS CODE @ Check Out:

COOPERBLOG
Cooper and Me is a cute story of two adventurous dogs who decide to have some fun in the snow and go sledding. As they wander further and further from home, a snowy storm hits. They agree that remaining where they are is safer than wandering around lost. Cooper and Me is told in story rhyme. I found the rhyming story to be cute way to teach young children how to be safe when they are lost. My 3yr old daughter really enjoyed this book.
* I received a copy of this book for free in hopes that I would post a review on my blog.
For more info see my Policy & Disclosure Page