Book review: It's this Monkey's Business
Written by
Debra Máres
Illustrated by Taylor Christensen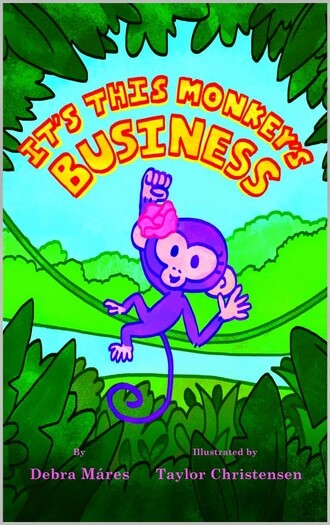 Cabana, a young spider monkey is brought to life to tell her story growing up with domestic violence and divorce. Cabana, who lives with her parents in a treehouse high up in a rainforest canopy, becomes startled one day from her Mama's scream, when she is waiting atop a tree branch for her Papa to teach her how to swing. After falling to the forest floor, Cabana frustrated from her parents' fighting, decides she will search for a new family to be part of, but is faced with a dangerous world.
It's This Monkey's Business safely explores with children, issues surrounding domestic violence in the home. Targeting ages 4-8, this easy-to-understand story is intended for families who have been affected by domestic violence or wish to bring awareness to it. This book is intended where parents decide to separate or divorce as a result of a domestic dispute, but plan to stay active and involved in their child's life.
My review: Ms.
Máres tackles a very difficult subject with her story about divorce and domestic abuse. I think young children will relate to her little monkey Cabana going through these family hardships, feeling confused and scared. But Cabana discovers that she still has an important place in both her parents' lives, and that sometimes it is beneficial to break up the toxic family environment and start over. I believe this story can show young children the light at the end of the tunnel, especially when Cabana ends up still being close to both her mom and dad. The book can be a great tool in helping young kids cope with their fears and confusion. The sweet illustrations will appeal to young readers and help put them at ease with this difficult subject.

Disclosure: I received free the item(s) mentioned in this post in exchange for my honest review. Regardless ~ All my reviews are my honest and personal opinion.
I am disclosing this in accordance with the Federal Trade Commission's 16 CFR, Part 255: "Guides Concerning the Use of Endorsements and Testimonials in Advertising.".