Hate tying your kids' shoes everyday before they step out of the house?
Hate stopping to tie your own shoes mid-run?
Have kiddos that get discouraged trying to tie their shoes?
Check out the newest help for moms, dads, grandmas, teachers and kiddos . . . HICKIES!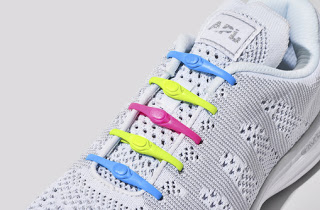 HICKIES products turn any pair of sneakers into
convenient, comfortable, and stylish slip-ons that are perfect for any activity from recess play and on-the-go errands to Mom and Dad's triathlons.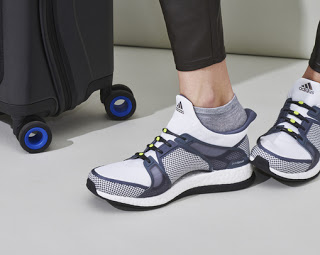 Features:
Works in any shoe with eyelets.
One size fits all.
Elastic material keeps shoes secure and comfortable.
Never tie again! Play uninterrupted.
Fun look, without messy knots and bows.
Adjustable tightness.
Quick and easy - simply slip on and off.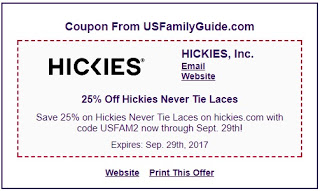 Never tie, never worry. @Hickies Never Tie Laces on hickies.com 25% off w/ code USFAM now thru Sept. 20th!

Disclosure: I received free the item(s) mentioned in this post in exchange for my honest review. Regardless ~ All my reviews are my honest and personal opinion.
I am disclosing this in accordance with the Federal Trade Commission's 16 CFR, Part 255: "Guides Concerning the Use of Endorsements and Testimonials in Advertising.".