Aurorae
is an online retailer who offers a huge selection of yoga supplies and great yoga mats in a wide range of colors. They have extra long yoga mats and extra thick yoga mats as well as yoga bags, and yoga accessories.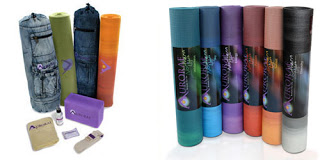 I was sent a wonderful, extra long slip-free yoga mat and micro-fiber sport towwl in a vibrant purple color - my daughters immediately wanted to lay on it and "exercise."
The mat is soft on one side and non-slip on the other. It is longer than any other mat I've seen in my local stores - I can lay on it and only my feet hang off the end - so when exercising, or trying yoga positions, the mat is bigger than I need most of the time.
The towel is very absorbent and can be used for the whole time I am exercising without becoming soaked.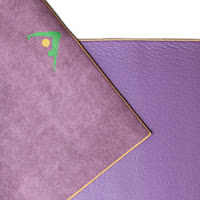 I love using my Synergy yoga mat from
Aurorae
for simple floor exercises, mild yoga and even when I exercise with my Wii Fit! I can work out for longer periods of time since this mat has more cushion and is more comfortable to use than any other mat I've tried! It is not recommended to wash it too often - so there are cleaning sprays available for purchase that can be used in between washings. I do not sweat a lot on my mat so I usually hang it over my shower rod in the bathroom after each use. So far it is in great condition still and my kids and I love our yoga mat from
Aurorae.
Bags can be purchased for easier travel from class to home, or even on family trips!
Aurorae offers yoga mats in illuminating colors, a focal point icon and extra long in length. Aurorae offers the best reviewed yoga mats, accessories & props online. You can browse their yoga mats, yoga bags, yoga accessories and yoga props here.

I received one or more books or products in the post above for review purposes only. I was in no way required to write a positive review. All my reviews are my honest and personal opinion
. If you have any questions or comments, please see my FTC disclosure or Review Policy.