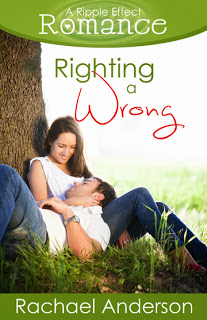 Righting a Wrong by Rachael Anderson
Seven years ago, Cambri Blaine fled her small hometown of Bridger, Colorado after her senior year ended in a fiasco. Only Jace Sutton knew the real reason why—that she was a spineless coward. Now, seven years later, her father's been in an accident and needs help, and Cambr has no choice but to return home. So with trepidation, she takes a leave of absence from the landscape architecture firm where she works and boards a plane, hoping against hope that Jace is no longer around and that the past can stay where it belongs—in the past. If only life worked that way. Jace never expected to see Cambri again. After she'd led him on, bruised his heart, and left town without a backward glance, he was forced to pick up the pieces and try not to hate her for it. Eventually, he put it behind him and moved on, creating a life for
himself in his beloved hometown. But now that Cambri is back and looking more beautiful and sophisticated than ever, some of those old feelings resurface, and Jake instinctively knows, for the sake of his heart, that he needs to avoid her at all costs. If only it were that easy.
Author Rachael Anderson
A USA Today bestselling author, Rachael Anderson is the mother of four and is pretty good at breaking up fights, or at least sending guilty parties to their rooms. She can't sing, doesn't dance, and despises tragedies. But she recently figured out how yeast works and can now make homemade bread, which she is really good at eating.
The Ripple Effect Romance Novella Series
Enjoy this exciting new series of clean novellas by six critically-acclaimed authors. "Like a pebble tossed into calm water, a simple act can ripple outward and have a far-reaching effect on those we meet, perhaps setting a life on a different course—one filled with excitement, adventure, and sometimes even love." Book 1:
Home Matters
by
Julie N. Ford
Book 2:
Silver Linings
by
Kaylee Baldwin
Book 3:
Righting A Wrong
by
Rachael Anderson
Book 4:
Lost and Found
by
Karey White
Book 5:
Second Chances 101
by
Donna K. Weaver
Book 6:
Immersed
by
Jennifer Griffith
Tour Giveaway
$25 Amazon Gift Card or Paypal Cash Ends 4/28/14
a Rafflecopter giveaway

Disclosure: I received free the item(s) mentioned in this post in exchange for my honest review. Regardless ~ All my reviews are my honest and personal opinion.
I am disclosing this in accordance with the Federal Trade Commission's 16 CFR, Part 255: "Guides Concerning the Use of Endorsements and Testimonials in Advertising.".