Love your dog, but not the mess in your house?
If you've ever owned a puppy (or currently have one) you know the problem: peeing or marking in the house! While most dogs can be successfully house trained within time, others are...well... a different story. Whether your dog is simply stubborn, or if there are medical issues leading to incontinence, belly bands provide a great solution. What is a belly band? It's a cloth belt that wraps around your dog, and it holds a disposable pad inside to absorb the liquid.
While they've been available at pet stores for a while, I highly recommend getting them custom made for your dog. At the Purple Puppy, you can send in your dog's measurements, and they even let you choose the fabric. What differentiates these hand made bands from store bought ones is the fit. You want the fabric to snugly wrap around your dog, avoiding slips and leakage, yet still be comfortable for your pet to wear. For extra security, The Purple Puppy has elastics sown into the sides of all their bands, securing a far better fit than most other brands.
We have successfully used these at Evo and Eli's Love Box, an animal sanctuary I volunteer for. I also use belly bands on one of my own dogs (I have four, but promised I wouldn't reveal his name to protect his privacy. He's a great dog, he just can't quite make it through the night!). Purple Puppy bands are high quality products and, at about $10 each, will only run you half of what I paid for the store bought counterpart. Oh, and if your doggie is a girl, there are panties available too!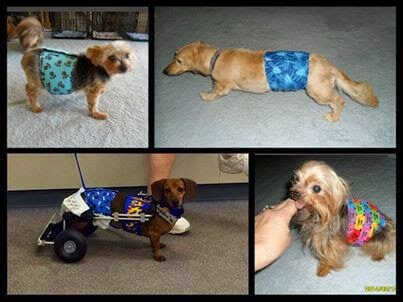 Clockwise from top to bottom: Charlie, Oakley, Wyatt, and Jessee (all Evo and Eli's residents)

Disclosure: I received free the item(s) mentioned in this post in exchange for my honest review. Regardless ~ All my reviews are my honest and personal opinion.
I am disclosing this in accordance with the Federal Trade Commission's 16 CFR, Part 255: "Guides Concerning the Use of Endorsements and Testimonials in Advertising.".