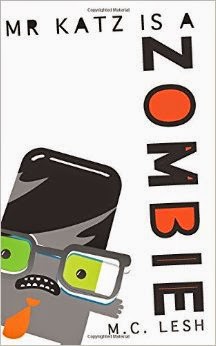 New release today: Mr. Katz is a Zombie by M. C. Lesh
Catastrophe looms in North Goethalsburg! When twelve-year-old J.D. is tricked into taking possession of a book of spells, his best friend turns their teacher into a zombie. The zombification of Mr. Katz creates general chaos and a not-so-terrific time for near-genius J.D. Teamed with his best friend Rodney, twin troublemakers, and an obnoxious ghost, J.D. must figure out how to change Mr. Katz back from one of the undead before he: 1. Escapes the janitor's closet; 2. Eats their brains; and 3. Wears J.D.'s spleen as a hat. Can four boys armed with a slingshot, two boxes of jelly donuts, and a handy zombie guide battle their mindless teacher and live to tell? Probably not. You'll have to read to find out.
My review: If your son or daughter enjoys "Diary of a Wimpy kid", Mr. Katz is a Zombie is sure to appeal to them. The first book in the Goethalsburg Ghost Squad series, the story is told from bratty J.D.'s perspective. He's your regular, average kid-only that his parents are professional ghost hunters! This lands J. D. in an awful lot of trouble-naturally through no fault of his own! Take Mr. Katz' current zombie like state, for example. Clearly his friend Rodney's doing, but now it's up to J.D. to save the day. To make matters worse, Rodney and his chaotic brothers are about as little help as the uncooperative ghost Balthazar. But J. D. is ready to take on the battle-even if it's with a box of jelly donuts!
A fun story for pre-teens with just the right mix of humor and action filled adventure, Mr. Katz is Available on Amazon as of October 14.
About the author: As a child, M.C. Lesh had to hold her nose in order to eat spinach. As an adult, she hardly ever has to hold her nose when she eats spinach, but she still picks onions out of all of her food. She read a lot of books as a kid. Luckily, she didn't have one of those video gaming machines to rot her brain. (Her friend Lorenzo says they appeal to the monkey part of the brain. She thinks that's an insult to monkeys. Sorry, monkeys!) Mr. Katz is a Zombie is the first book in her Goethalsburg Ghost Squad Series. She hopes you'll return to North Goethalsburg to find out what happens when J.D. meets Martin Barton, suspected werewolf and snappy dresser. She also hopes you never have to be too serious, but in the event that you do, her advice is to keep a yo-yo in your back pocket because that is almost always a good idea.
Visit her website: margaretlesh.com.

Disclosure: I received free the item(s) mentioned in this post in exchange for my honest review, but also bought two more copies for a children's hospital. Yup, spent my own money! Regardless ~ All my reviews are my honest and personal opinion. I am disclosing this in accordance with the Federal Trade Commission's 16 CFR, Part 255: "Guides Concerning the Use of Endorsements and Testimonials in Advertising.".