"SUPER KATE"
DVD Available from Public Media Distribution, LLC August 8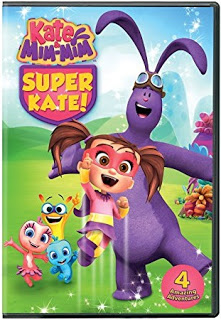 Public Media Distribution, LLC announced today it is releasing four stories from the popular kids series "Kate & Mim-Mim" on the new DVD"SUPER KATE." Grab your cape and join Kate, Mim-Mim, and their friends on four fun-filled adventures in Mimiloo. In the story Super Kate, Tack zaps everyone with his supercharger invention giving them super powers – Kate gets super jumping powers and Mim-Mim gets super hearing powers. When Boomer gets into a bouncy predicament because of his super speed, can he be saved?
Additional stories feature Tack creating a superhero suit so he can be the "Mimiloo Superhero," Boomer enjoying super strength with the help of Tack's load lightener invention, and Kate and her friends helping a friendly dragon find
its way home.
"SUPER KATE" will be available on DVD

August 8, 2017

. The DVD run time is approximately 45 minutes and its SRP is $6.99. The stories included on this DVD are below. Episodes of "Kate & Mim-Mim" are also available for digital download.
"Super Kate"
When Kate can't jump high enough to retrieve a ball stuck in a tree, she wonders what it would be like to have superpowers. In Mimiloo, Tack's new Supercharger invention gives everyone superpowers! But their new abilities aren't enough to get Boomer out of a bouncy predicament.
"Boomer's Blanky"
Kate can't find her cape to become Super Kate and rescue a stranded balloon! Boomer is enjoying superpowers of his own in Mimiloo – Tack's new Load Lightener invention has made Boomer's blanky superpowered, so while Boomer wears it as a cape, he can lift anything and anyone as if they were light as a feather! But when Boomer's blanky flies away, Boomer thinks he'll never be super again. It's up to his friends to find his blanky and bring a smile back to Boomer's face.
"Secret Superhero"
Dad saves Kate's ice cream from falling just like a superhero! In Mimiloo, Tack is feeling down about his little muscles while trying to fix the clubhouse…until Boomer mistakes him for a superhero behind all his gadgets and welding mask! Tack tries to secretly live up to the reputation of "Mimiloo Man," but being a superhero is a lonely job, and Kate and her friends miss having Tack around.
"Kate's Dragon Quest"
Moths are spoiling an outdoor dinner for Kate and her parents. In Mimiloo, all of Kate's friends are hiding from a dragon that's after Gobble's moon flowers! But when the dragon turns out to be more friendly than fearsome, Kate leads her friends on a quest to help the dragon find its way home.
Inspired by a real life little girl, "Kate & Mim-Mim" follows the fantastical adventures of 5-year-old Kate, who, together with her toy rabbit Mim-Mim, travels to the fantasy world of Mimiloo where Mim-Mim comes alive as a larger-than-life playmate. In each story, Kate and Mim-Mim and their group of friends discover exciting new places and set off on adventures, all in the hope of solving a puzzling problem Kate has encountered in the real world.
Exploring themes of friendship, adventure, and problem solving, "Kate & Mim-Mim" encourages children to use their imaginations and work together, believing no problem is ever too big to solve!
About FremantleMedia Kids & Family
FremantleMedia Kids & Family Entertainment (FMK), a division of FremantleMedia, is one of the most dynamic independent producers, licensors and distributors of engaging and ground-breaking content in the sector. A worldwide leader in family entertainment, with offices in the UK, US, Australia and Asia, the division works with leading international partners to build global franchises that connect with children and families across multiple platforms and touch points.
FMKs varied and distinctive portfolio includes the smash-hit comedy action animation Danger Mouse, pre-school girls' sensation Kate & Mim-Mim and heroic boys' pre-school property Tree Fu Tom. Its rich archive of family classics contains over 5,000 hours of programming including cult magazine show Rainbow, the original Danger Mouse and Count Duckula. FMK is part of FremantleMedia, one of the leading creators, producers and distributors of TV entertainment brands in the world.
About Public Media Distribution, LLC
Public Media Distribution, LLC, is a leading media distributor both domestically and internationally. We offer high-quality, distinctive programs to our customers, including documentaries (The Sixties), dramas (Fortitude), and popular children's programming under the SkipRope brand (Kate & Mim-Mim) in multiple formats including DVD, Blu-ray, digital download, and digital streaming.
KATE & MIM-MIM: SUPER KATE
Street Date:

August 8, 2017
Run Time: Approx. 45 Minutes
SRP: $6.99
Format: DVD
The SkipRope logo is a trademark of Public Media Distribution, LLC.

Disclosure: I received free the item(s) mentioned in this post in exchange for my honest review. Regardless ~ All my reviews are my honest and personal opinion.
I am disclosing this in accordance with the Federal Trade Commission's 16 CFR, Part 255: "Guides Concerning the Use of Endorsements and Testimonials in Advertising.".