The Bride Wore Blue
by Mona Hodgson
The Sinclair Sisters of Cripple Creek—Book 3
Headed toward a fresh start but tethered by her past, Vivian longs to break free, to find forgiveness and love.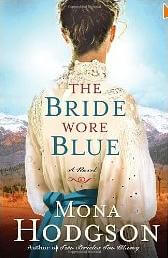 At last, the sisters are reunited! The youngest Sinclair, the family" baby", is moving from Maine to Cripple Creek, Colorado and joining Kat, Nell, and Ida. But Vivian is a young woman with a will of her own, and made some decisions back in Portland that have begun to haunt her. Will she be able to live up to the expectations of her three perfect and now happily-settled sisters?
The sisters warmly welcome Vivian to the mountain west, but the wild-and-woolly mining town isn't ripe with opportunities for a respectable young woman. The youngest Sinclair sister is determined to make her own way, so when she's offered a job as a
hostess in a sporting house, she takes it, thinking the position is appropriate for a tainted, unlovable woman like herself.
Although she's convinced she'll never be asked to entertain privately, Vivian keeps her employment a secret from her sisters, knowing they'd be mortified—as will Carter Alwyn, the kind and godly sheriff 's deputy who's sweet on her.
Vivian is descending into a life of secrets, lying to the very people who love her and could help her heal from her mistakes. Will an outpouring of grace remind her that she is still God's beloved and that her past can be washed as clean as Rocky Mountain snow?
Author's Web Site
Author Bio
More Info
Read Chapter One
My Review:
I have now read all three of The Sinclair Sisters of Cripple Creek stories to date. This third book in the series gives the reader an in-depth look at the "baby" of the family, Vivian. I felt like Vivian had been a typical spoiled baby sister, wanting her own way before she went to join her older sisters in Cripple Creek, and had learned some hard life lessons in a very difficult way. Though she seemed to be more mature and to have learned from the mistakes in her past, she seemed to continue to resent her older sister's influence in her life at times, and I think it led to her making more mistakes that could possibly been avoided if she would have just taken the time to talk with one or more of them.
This realistic sibling dynamic made the story much more enjoyable for me, as well as the estranged romance between Vivian and Deputy Alwyn. The overwhelming lesson of forgiveness, faith and acceptance is an integral part of the story from beginning to end. This heartwarming story is one that shows how forgiveness, love, and family loyalty can help overcome difficult circumstances. I also enjoyed the mystery and danger involved that gave the wild west type feel to this story that I really like.
This is a good christian fiction romance, with some wild west outlaws, soiled doves, train robbery and so much more excitement thrown in the mix. Although it can be read alone, I do recommend reading the first two books in the series first in order to get to know many of the other characters in this story.

Disclosure: All my reviews are my honest and personal opinion.
I am disclosing this in accordance with the Federal Trade Commission's 16 CFR, Part 255: "Guides Concerning the Use of Endorsements and Testimonials in Advertising.".