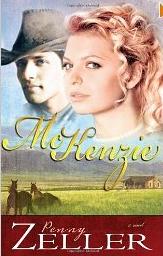 Desperate times call for desperate measures is the reasoning that prompts McKenzie Worthington, a young lady of Boston's high society, to respond to an ad for a mail-order bride for a man in the Montana Territory. McKenzie is desperate, after all, to save her beloved younger sister, Kaydie, from her evil, abusive husband, who robs banks for a living. And so, it is with reckless determination that McKenzie runs away from the comforts of home and hearth to head West and meet her new husband-whom she'll divorce, of course, after she rescues her sister.
Desperate times call for desperate measures is the reasoning that also prompts Zachary Sawyer, a rugged rancher after God's own heart, to post an ad for a mail-order bride in various newspapers across the country. Managing a ranch and caring for his adoptive son, Davey, has become more than one man can handle alone, and Zach prays for God to send him a wife with whom to build a life and share his dreams.
When McKenzie arrives at Zach's ranch, she immediately puts her plan in motion, searching for her sister and doing all she can to keep her new husband from forming an attachment. But his persistent kindness and significant self-sacrifices begin to change her heart-and ruin her plans. God has a way of working things out to the good of those who love Him, though, as McKenzie and Kaydie will soon see.
My Review
:
Oh I absolutely loved this story. I was captivated from the beginning with McKenzie's situation. And I totally and completely fell in love with Zach.
Author Penny Zeller is a wonderful story teller. Her writing captures the imagination and brings the characters and story to life. I could not put this book down. Then, the story ends with a small "cliffhanger." Just enough to keep the reader (me) wanting more. I can't wait to read the next book in this series: Kaydie! I definitely recommend this book to anyone who loves adventure, romance, danger and mystery all wrapped up in a clean fiction package!