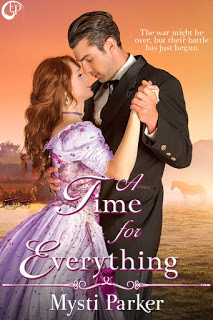 After losing her husband and only child to the ravages of the Civil War, twenty-five-year-old Portia McAllister is drowning in grief. When she sees an ad for a live-in tutor in another town, she leaves everything behind in hopes of making a fresh start. But as a Confederate widow in a Union household, she is met with resentment from her new charge and her employer, war veteran Beau Stanford.
Despite their differences, she and Beau find common ground and
the stirrings of a second chance at love—until his late wife's cousin, Lydia, arrives with her sights set on him. Burdened with a farm on the brink of bankruptcy, Beau is tempted by Lydia's hefty dowry, though Portia has captured his heart.
In another time and another place, his choice would be easy. But love seems impossible amid the simmering chaos of Reconstruction that could boil over at any moment into an all-out battle for survival. Will Beau and Portia find their way into each other's arms, or will they be swept away by raging forces beyond their control?
Review
:
I love this story. From the first opening scene through the final chapter Portia's story kept me reading and reading. I really could not put this "book" down.
Portia has been through terrible tragedy and heartbreak to the point she wished to die. But her loving sister and brother-in-law would not allow her to give in to her grief. So Portia finds a way to get on with her life by taking a position as a live in tutor for a young boy with troubles of his own.
Beau is reluctant to have a young unmarried woman in his home. He thinks his father is trying to set him up so his initial reaction to Portia is not favorable. But over time, he comes to see her in a different way, but it might be too late for love.
Portia and Beau both come from lives that are filled with loss, grief and very difficult choices. The struggles they overcome seem tremendous. Their story is one that is worth reading, but a little caution; due to adult situations and circumstances, I would recommend this book for 16 and up. It is clean for the most part but definitely not for younger readers.
*A Time For Everything can be purchased in paperback or ebook on Amazon

Disclosure: I received free the item(s) mentioned in this post in exchange for my honest review. Regardless ~ All my reviews are my honest and personal opinion
.
I am disclosing this in accordance with the Federal Trade Commission's 16 CFR, Part 255: "Guides Concerning the Use of Endorsements and Testimonials in Advertising.".