Eye-Popping Oddities is the latest addition to Ripley's Believe It or Not! bestselling annual series.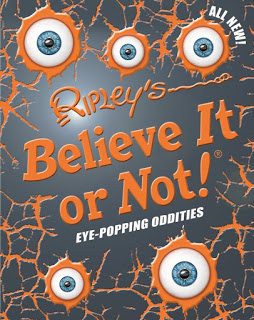 All-new, bizarre, amazing, uncanny facts and feats! Readers will not believe what they're reading, but each and every story has been verified 100 percent shocking, 100 percent incredible and 100 percent true! Whether Eye-Popping Oddities is the latest addition to a Ripley's collection or a first-time purchase, readers of all ages will not be able to put this book down.
Ripley's Believe It or Not! Eye-Popping Oddities is an incredible collection of the weirdest and wackiest facts in the world. From strange traditions in far-off places to weird
collections from the town next door, this new Believe It or Not! title will amaze and astound everyone.
Crystal clear photography and incredible facts will keep readers turning the pages, as every new fact is unbelievable, but verified to be true. Short stories and astounding facts will keep children and adults alike entertained for hours, as there is always something new to discover!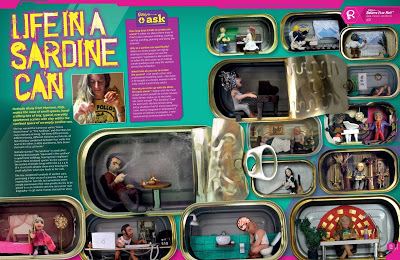 Review :
With "Eye Popping" color photos and page after page of exciting and yes even gross stories, the Ripley's Believe It or Not: Eye Popping Oddities 2015 is a thrill to read. I love finding books like this for my 14 yr old son. He enjoys reading the strange facts over and over. Getting him to read can often be a challenge but with Ripley's books it is easy and fun. These great books make super gifts for birthdays and Christmas.
This year's issue even has my 10 year old daughter's favorite fish: the blobfish - named world's ungliest animal. With 10 chapters divided into categories such as World, Body, Animals, Pop Culture, Beyond Belief and other amazing stuff. This year's annual Ripley's book is definitely a must read for those who love fun facts, amazing feats and strange oddities.

*It is easy to grab your copy of this fantastic book through Amazon (and yes it is also available for kindle - but I personally recommend the print edition!)

Disclosure: I received free the item(s) mentioned in this post in exchange for my honest review.
Regardless ~ All my reviews are my honest and personal opinion.
I am disclosing this in accordance with the Federal Trade Commission's 16 CFR, Part 255: "Guides Concerning the Use of Endorsements and Testimonials in Advertising.".