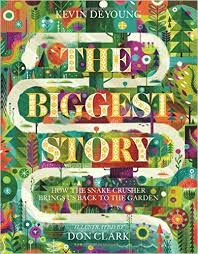 About the book :
Hardcover: 132 pages
Publisher: Crossway (August 31, 2015)
In The Biggest Story, Kevin DeYoung - a best-selling author and father of six - leads kids and parents alike on an exciting journey through the Bible, connecting the dots from the garden of Eden to Christ's death on the cross to the new heave and new earth.
With powerful illustrations by award-winning artist Don Clark, this imaginative retelling of the Bible's core message-how the Snake Crusher brings us back to the garden-will
draw children into the biblical story, teaching them that God's promises are even bigger and better than we think.
WEBSITE **
FACEBOOK
**
TWITTER
**
PURCHASE
Review :
Ask anyone who knows me, I LOVE children's books. Each of my kiddos has their own personal library full of books just for them to read, reread and enjoy! Many of them I also have read as well. I love finding new adventures for my kiddos to read that will engage their minds and intrigue their imaginations.
The Biggest Story: How The Snake Crusher Brings Us Back To The Garden is a wonderful children's book that helps children learn how the stories of the Bible connect to Scripture's message about God's glorious plan to redeem his rebellious people. Filled with amazing and artistic illustrations that will draw children (and adults) into the biblical story in a whole new way. From Adam and Eve through Jesus (The Snake Crusher) Rising From the Grave, the story is told in a simple yet powerful way that children can easily understand. With the final promise that He will one day return again to "make a new beginning and to finish what He started."
At the end of the book is a section just for parents that explains more about this book and how this book came to be written.
My girls and I both love this book and I can't wait to start reading it to my nieces as well. Recommended by this Mom and Blogger.
About Kevin DeYoung :
Kevin DeYoung is senior pastor at University Reformed Church in East Lansing, Michigan. He blogs at the Gospel Coalition and has authored or coauthored numerous well-known books, including Just Do Something, The Hole in Our Holiness, Crazy Busy, and Taking God At His Word. He lives with his wife and their 6 children in Central Michigan.
About Don Clark
:
Don Clark is an artist and the cofounder of Invisible Creature, a widely respected and award-winning design studio in Seattle that has worked with clients such as Target, Nike, LEGO, and WIRED magazine. He lives with his wife and their 3 children, 4 goats, 12 chickens, and 1 crazy dog on a farm just outside the city limits.