We've all faced circumstances that have held us captive in some regard.
What has held you captive?
How did you find your purpose?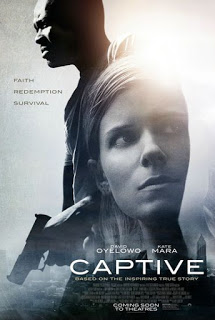 CAPTIVE, based on a miraculous true story that drew the attention of the entire nation, is a thrilling drama about the spiritual collision of two broken lives. When Brian Nichols - on the run as the subject of a city wide manhunt and desperate to make contact with his newborn son - takes recovering meth addict Ashley Smith hostage in her own apartment, she turns for guidance to Rick Warren's best-selling inspirational book, The Purpose Driven Life. While reading aloud, Ashley and her
would-be killer each face crossroads where despair and death intersect hope.
The movie stars David Oyelowo, who played Dr. Martin Luther King, Jr. in the recent film, Selma.
Click HERE for a special greeting from David Oyelowo.


After watching the movie trailer I am anxious to see the full movie in the theaters! I know it came out on September 18th but I have not yet had an opportunity to go see it. I had heard of the original release of the book and the basic story, but never really put myself in Ashley's place.

Now that I've seen the trailer, I have wondered what I would have done in that same situation? Would I have taken the chance to read aloud to a desperate stranger holding me at gunpoint? Would I have the courage to share God's Love in the face of my fear?

Although I have not personally went through a situation like Ashley did, I have had circumstances in my life where I felt that I was held "captive" by the circumstances. Only with God's help was I able to overcome the problems and continue living a life of Faith and Love.

I hope you also will take the time to go see Captive in the theater - or read the book for yourself.




Disclosure: I received free the item(s) mentioned in this post in exchange for my honest review. Regardless ~ All my reviews are my honest and personal opinion.
I am disclosing this in accordance with the Federal Trade Commission's 16 CFR, Part 255: "Guides Concerning the Use of Endorsements and Testimonials in Advertising.".