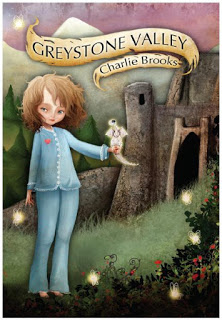 Greystone Valley is a land of wizards, dragons, and warriors... and one young girl who ends up there quite by accident when her idle wish is granted.
Sarah discovers that not everything in the valley is as magic as she might've wished - especially the nearly illiterate wizard, the mouse-sized dragon, and the warrior who can't stand the sight of blood.
Being hunted isn't helping, either.
Will Sarah survive this new life of hers, and can she make it home? And, more importantly, will she ever be the same again?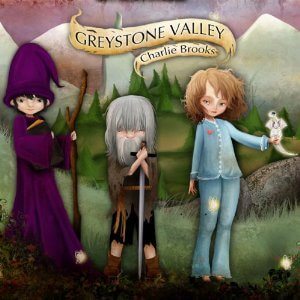 My Review:
I absolutely LOVE this book. I wish I had it in print! This story is well-written, captured my imagination and is full of adventure, danger, magic and friendship. I highly recommend this to middle grade readers who love adventure and mystery that keeps the reader guessing til the very end. With intriguing twists and turns this story of friendship, determination and personal growth will capture the imagination of even the most skeptical reader.
The characters are well-developed. The strained relationship between Sarah and her mother is realistic, and explains the reasons for her constant fantasizing well. Her desire to escape leads to her ultimate adventure and her learning some valuable lessons along the way. The emotional roller coaster that Sarah and her new-found friends experience kept my interest from start to finish. I can't wait to see what the author comes up with next. Hopefully there will be another adventure in Greystone Valley for Sarah real soon.
Right now, Greystone Valley is only $.99 on
Amazon.com
!
About the Author:
Charlie Brooks is a lifelong resident of Vermont who fell in love with fantasy literature at a young age. His other published novels include the fantasy epic
Shadowslayers
and the sci-fi thriller
Reality Check
. He is a two-time quarterfinalist in the Amazon.com Breakthrough Novel Awards. His short story "Fantasy as you Like It" won the 2006 Chaffin Award for Fiction, and his tale "Eight-Bit Heaven" won the New Millennium Writings Fiction Prize in 2011.
Greystone Valley
draws inspiration from some of Charlie's favorite fantasy stories, including
The Chronicles of Prydain
,
Alice's Adventures in Wonderland
, and
The Narnia Chronicles
. Most importantly, it is a tale for Sarah, who is Charlie's wife, friend, and greatest inspiration.

I received an early review copy of Greystone Valley by Charlie Brooks from Grey Gecko Press as part of Librarything Early Reviewers program. All my reviews are my honest and personal opinion and are not influenced nor reviewed by the sponsor prior to posting.
If you have any questions or comments, please see my FTC disclosure or Review Policy.