Book 1, Noah Zarc: Mammoth Trouble
Book 2, Noah Zarc: Cataclysm
Book 3, Noah Zarc: Declaration
Noah Zarc Omnibus, includes all three books
Noah Zarc: Mammoth Trouble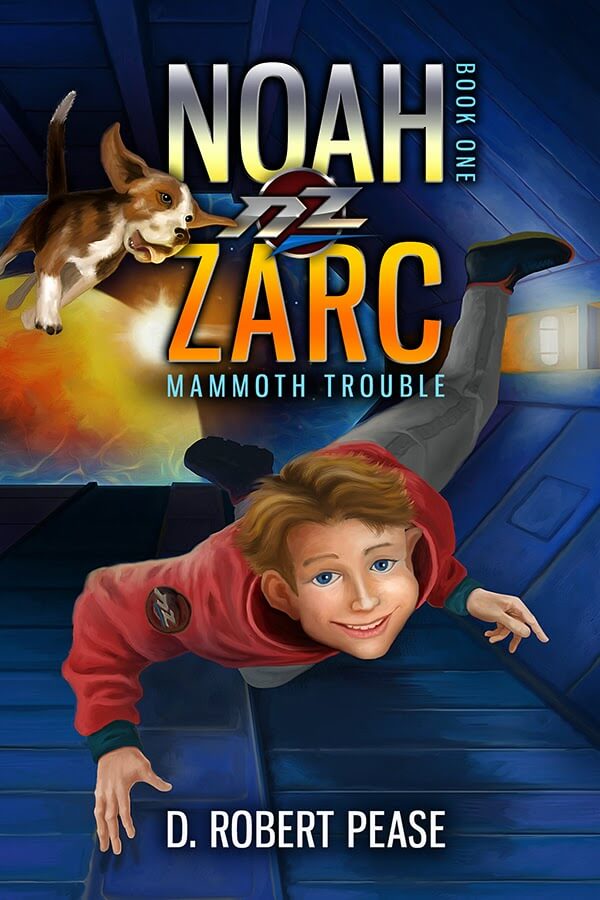 Noah lives for piloting spaceships through time, dodging killer robots and saving Earth's animals from extinction. Life couldn't be better. However, the twelve-year-old time traveler soon learns it could be a whole lot worse. His mom is abducted and taken to thirty-first century Mars; his dad becomes stranded in the Ice Age; and Noah is attacked at every turn by a foe bent on destroying a newly habitable, post-apocalyptic Earth.
Traveling through time in the family's immense spaceship, Noah, a paraplegic from birth, must somehow care for the thousands of animals on board, while finding a way to rescue his parents. Along the way, he discovers his mother and father aren't who he thought they were, and there is strength inside him he didn't know he had.
My Review
:
I LOVED IT! Noah Zarc Mammoth Trouble is an excellent middle grade adventure that keeps the reader on the edge of his/her seat. The characters are endearing and the story has such depth and true emotion throughout. The story is full of danger, boyish determination, and fantastic adventure.
The reader can join Noah and his family on an exciting journey through time and space to save earth and lives of the ones they love. Some difficult choices must be made, but will Noah make the right choice in time to save his loved ones? Find out for yourself, read Noah Zarc: Mammoth Trouble by D. Robert Pease today.
I really enjoyed reading this book.
Josh's Review (age 12)
:
This is a great book for middle grade boys, though girls can read it too. I like the Sci-Fi part - being able to fly not only through Space by Time as well - and being able to see the earth and animals back in time is a great idea. I really liked reading this book and want to read the next one too. I know many of my friends would love to read these Noah Zarc books - you should check them out!

Noah Zarc: Cataclysm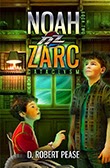 Thirteen-year-old Noah Zarc rockets to Venus in a quest to learn more about his past. He refuses to believe
his father is really the monster everyone says he is. Could there be valid reasons for everything he's done, including abandoning Noah at birth?
While searching for answers to secrets no one wants to talk about, even those that have remained hidden for over a thousand years, Noah becomes embroiled in a mission which could cause the greatest cataclysm in the history of the solar system. And the name, Noah Zarc, might be forever linked to the most devastating crime in humanity's existence, all because he was in the wrong place at the wrong time.
My Review
:
Once again Author D. Robert Pease has captured my sci-fi spirit with the continuing adventures of Noah Zarc and his family. As a Mom of three kids, one a strong-willed 12 year old boy; I still find myself wanting to put Noah in "Time Out" for some of his misdeeds and disobeying his parents though.
Although Noah is a paraplegic and has to live his life in the modern space version of a wheel chair, he never lets this minor limitation stop him from living his life to it's fullest. And his parents and siblings don't treat him any differently due to his physical limitations. Noah's adventures show that no matter the physical issues, anyone can do what is right, save the day, or just plain have fun!
Noah kept me interested throughout this mystery adventure with his determination to see his adventures through and "try" to do what he feels is the right thing to do. Though many times he ends up in more trouble due to his impetuous nature, I still find myself drawn into the story as I picture my own child and his adventurous spirit, traveling along with Noah and his crew.
I can't wait to see what happens in the next book when it comes out in December 2013!

Just out this month! Book 3!

Noah Zarc: Declaration
Book 3 in the Noah Zarc Trilogy

The final book in the Noah Zarc Trilogy. – As battles rage across the solar system, Noah must work to join together a rag-tag bunch of miners, farmers, and scientists who would rather just live in peace. With only a time-traveling ship full of animals and a general from the history books, the Zarc family has to stand against the full might of the Poligarchy. Will the truth about what really happened a thousand years in the past be enough to stop total war, or will Noah and his friends need to find another way to bring down a dictator?
My Review? Not yet but hopefully SOON!
A Giveaway? Of course - you should know by now how much I love to give away books!
Author D. Robert Pease is offering one lucky reader here on Mom Loves 2 Read
1 signed paperback of both Noah Zarc: Mammoth Trouble and Noah Zarc: Cataclysm
Open to US - must be 18 or older to enter/win!

Disclosure: I received free the item(s) mentioned in this post in exchange for my honest review. Regardless ~ All my reviews are my honest and personal opinion.
I am disclosing this in accordance with the Federal Trade Commission's 16 CFR, Part 255: "Guides Concerning the Use of Endorsements and Testimonials in Advertising.".