YA Paranormal Romance ~ The Faerie Guardian is the first book in a trilogy - and each book will include 4 to 5 novellettes that will ultimately make up the entire series, so buckle your seatbelts and get ready for a fantastic and magical adventure . . .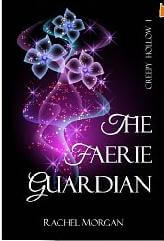 Protecting humans from dangerous magical creatures is all in a day's work for a faerie training to be a guardian. Seventeen-year-old Violet Fairdale knows this better than anyone--she's about to become the best guardian the Guild has seen in years. That is, until a cute human boy who can somehow see through her faerie glamour follows her into the fae realm. Now she's broken Guild Law, a crime that could lead to her expulsion.

The last thing Vi wants to do is spend any more time with the boy who got her into this mess, but the Guild requires that she return Nate to his home and make him forget everything he's discovered of the fae realm. Easy, right? Not when you factor in evil faeries, long-lost family members, and inconvenient feelings of the romantic kind. Vi is about to find herself tangled up in a dangerous plot--and it'll take all her training to get out of it alive.
[This novel is a compilation of the short ebooks Guardian, Labyrinth, Traitor and Masquerade, and includes bonus scenes at the end.]
Purchase The Faerie Guardian

My Review :
I just finished this book last night. I was so captivated by the story that I could not stop reading until I had finished it. I just had to find out what was happening next.
Violet is not a typical fae in the usual faerie story. She is in training to become a guardian - a faerie who protects humans from being attacked by dark faerie and other nasty magic creatures. Unfortunately during one such assignment, the boy she was sent to protect was somehow able to see through her glamour and followed her when she tried to escape back into the fae realm - making her break rule number one: never bring a human into the fae realm- or so she thought.
The story has many twist that come at the best times throughout the story. Both Violet and her new friend Nate have secrets in their past that endanger them both as well as create more chaos in their lives as the adventure unfolds.
The Faerie Guardian is a wonderful fantasy adventure that I recommend for ages 12 and up. Author Rachel Morgan has begun a series that is enticing, intriguing, full of fantastic magical creatures and well worth reading. I can't wait for the next book in this series!
Rachel Morgan was born in South Africa and spent a large portion of her childhood living in a fantasy land of her own making. After completing a degree in genetics, she decided science wasn't for her—after all, they didn't approve of made-up facts. These days she spends much of her time immersed in fantasy land once more, writing fiction for young adults.
a Rafflecopter giveaway

I received one or more books or products in the post above for review purposes only. I was in no way required to write a positive review. All my reviews are my honest and personal opinion
. If you have any questions or comments, please see my FTC disclosure or Review Policy.