Review of Shayla Witherwood ~ A Half-Faerie Tale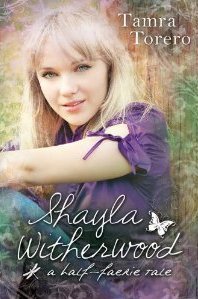 A brief moment of disappointment washed over me as I approached Jace's lifeless body. Here I was, about to kiss a boy on the lips for the very first time, and he was completely comatose—possibly paralyzed—and would never even know or remember the experience. This was not how I'd envisioned my first kiss—me invisible, him unconscious.
Shayla Witherwood is not exactly normal. First of all, she's spent her entire life being home-schooled, traveling in an RV around the country with her grandparents. And second, there's the kind of inescapable fact that her mom was a genuine faerie.
But now that she's starting a real life in a regular high school, Shayla desperately needs to stay out of trouble in both worlds because even her faerie powers might not be enough to protect her from what's coming.
My Review
:
Shayla is a teenage girl who has been home-schooled her whole life, and is now facing the challenges of public school. With the cliques, attitudes, peer pressure and daily issues most teens face in school, she has another larger one to deal with: she is half fae. Her mother was a faerie princess, and her father was a human. She is being raised by her grandmother who travels around in an RV. Her grandfather died recently and now grandma thinks Shayla should enter public school to finish her High School education.
In a human school, she must hide half of herself and protect herself from other people finding out about her fae side – and the magic she can do. She finds out quickly that hiding is harder than she thought - and why does she have to hide anyway? what's the harm in one or two friends finding out?
This story is one that will relate to teens from all walks of life. The subjects of jealousy, first love, emotional confusion, school issues and more will keep any reader fascinated from page one to the very last word. I really enjoyed reading this story, although I wasn't personally fond of the way the story is brought to an end. Towards the end is conflict, anger, fighting, death and some strangely bizarre faerie stuff. Since I don't like to give spoilers, all I'll say is this is a unique book well worth reading. I hope there is a sequel to this story. I look forward to reading more by author Tamra Torero!
*I received a free copy of this book through Netgalley for this review. All reviews are my personal opinion. See my Policy & Disclosure page for more info.