Beneath the Slashings
by Michelle Isenhoff
Extended Description
Beneath the Slashings is the final book in Ms. Isenhoff's Divided Decade Trilogy, which views the American Civil War from three different angles. But because they're only loosely related, each book can be read independently.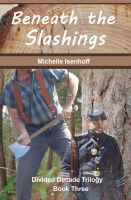 The story begins with 12-year-old Grace Nickerson celebrating the end of the war. After four long years, Pa's finally coming home! Grace is eager to move back to the family farm (from her aunt and uncle's house) and resume a normal life. But then Pa's letter comes in the mail–he's sold the farm and taken a job in a lumber camp, and Grace and her twin brother, Sam, are to go with him.

Grace is devastated. She's never been brave. "She wasn't one to swing out over the creek on a hot summer day and drop blindly into a pool." And her fear quickly turns to anger. When her tears and tantrums don't change Pa's mind, she stops speaking to him altogether.

In camp, Grace spends long hours working with Sam and Ivan, the surly Russian cook, but at least in the kitchen she's safe from the lumberjacks. She's seen them from the window. They're rough, unkept, and terrifying. But slowly, with Sam's help, she comes to understand they're all missing home and recovering from loss, just like she is. Her fear begins to evaporate–until she learns one of them is trying to kill Pa.


This is more than a suspenseful adventure, it's a little slice of history wrapped up in entertainment. Many returning Civil War vets really did look to the lumber camps for a fresh start. The setting is authentic and well-researched, and the colorful language of the logging camps is employed. The author even touches on the challenges that arose from so many new black freemen and the tragedy of diminishing Native American cultures. The years after the war were a time of uncertainty, rebuilding, and learning to live with changes. Isenhoff, with her distinctive prose, captures them beautifully. But mostly, this is a story of family and forgiveness.
My Review
:
I found Beneath the Slashings to be a coming of age type story in which a young girl suffers loss, learns to deal with anger and disappointment, and learns how to deal with difficult emotional issues. I liked Grace and her brother. I found myself sympathetic with her father and the difficult decisions he had to make. The story itself was good, though not a light read. I really had to pay attention while reading to make sure I didn't miss anything, but the story flowed pretty well so it kept my interest. Some of the characters are quite rough, as I imagine the men of that time and in a logging camp would be.
I enjoyed the historical aspects of this book, and the in depth look into the lives of men returning after the Civil War, and the difficulties they may have faced returning home. His adjustment to life in a logging camp with two small children, then having his life endangered, drew my interest even more.
Due to the mention of drunk men, drinking and the harshness of life in a logging camp, I'd recommend this for readers ages 15 and up.
Buy Links
:
Author Info:
Book Trailers

I received one or more books or products in the post above for review purposes only. I was in no way required to write a positive review. All my reviews are my honest and personal opinion
. If you have any questions or comments, please see my FTC disclosure or Review Policy.