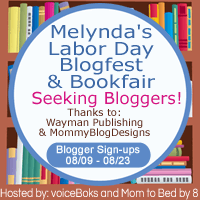 In September,
Wayman Publishing
is honoring
Melynda Fleury
for her brave fight against diabetes by offering a 3 part giveaway to get everyone involved in reading and this giveaway!
What are they giving away?
1) Unlimited free downloads of their TOP TEN Bestselling Books to all entrants of this giveaway.
2)
Mommy Blog Designs
, YES! Many of you know this woman already because she has an AWESOME reputation for her service and blog designs throughout the blogosphere, has also agreed to contribute one of her Premade Designs with full package
($269 Value) for FREE
to one lucky winner!
3) They are also offering a
CASH POT PRIZE!
Wayman Publishing is also contributing $100 towards whatever our pot prize is for the giveaway. So, yes, we begin at $100!
Everyone who enters and agrees to participate as a blogger in this giveaway will be able to enter
one link free
(no Googl
e+ please). If you refer a friend, you can enter
two links free
(no Googl
e+ please).
You can enter more than one link, but each social link will be $3 and $5 for each Email/RSS subscriptions.
If interested go HERE to Participtate! AND PLEASE remember to say "LOVES 2 READ" referred you!