Here are Two great books from The Lilly Series by author Nancy Rue
Here's Lilly:
My Review
:
Here's Lilly by Nancy Rue
is a fun and entertaining book for young girls. As the main character, Lilly
learns difficult life lessons, she also sees that turning to God for guidance and confidence will help her regain her focus on who's opinion is really the most important. As with most pre-teen girls, Lilly struggles with self-confidence, beauty, social issues, peer pressure and the struggle to balance friends, family and faith. In this book, and the other books in the
Lilly Series
, she learns that God's opinion is best. And although difficult at time, Lilly learns that listening the His instruction, and that of her parents, is what matters most.
I found throughout this book, that there are a lot of great lessons for young girls to learn in
Here's Lilly
by Nancy Rue
. I think this book is a great addition to any young girl's library and will help them see themselves through God's eyes. It is definitely a book I plan to have my own daughters read.
The Beauty Book
: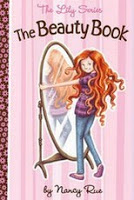 What's the main obstacle to beauty girls face today? Zits? Flat hair? How to put on make-up? No, it's how they see... themselves!
Sure, this book is full of all kinds of tips on how to take care of your skin and hair, how to pick out clothes, do your nails, and all around look your best. But its most important secret is how to know you're beautiful, by knowing yourself as God's beautiful creation.
Full of the quizzes, activities, and facts all girls love and need to know, this book won't make you beautiful--it will show you how beautiful you already are! (This is the companion book to Here's Lily!)
My Review
:
After reading
Here's Lilly by Nancy Rue
, I can honestly say that
The Beauty Book by Nancy Rue
is a great companion book. The book is full of fun and thoughtful quizzes, activities, Q & A and checklists give great advice, and entertaining facts for girls of all ages. There are great ways to take care of your skin and hair, to what to name your fingers and toes. This book is full of fun and entertaining ways for girls to keep themselves healthy, while encouraging them to look and be their best. This is a great book for girls who love the
Lilly Series by Nancy Rue
.
For more information on Nancy Rue or The Lilly Series:
Nancy Rue's Website ~
http://www.nancyrue.com/

I received one or more books or products in the post above for review purposes only from Thomas Nelson publisher. I was in no way required to write a positive review. All my reviews are my honest and personal opinion
. If you have any questions or comments, please see my FTC disclosure or Review Policy.