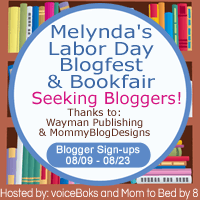 Melynda Fleury
had a close call with losing her eyesight due to diabetes, so to honor her fight, Wayman Publishing is throwing a Blogfest and Book Fair Giveaway. The Blogfest will be held during the week of Labor Day. ALL ENTRANTS will have unlimited access to download any of Wayman Publishing's Top 10 Books during the following dates: Sept 2 through Sept 4 ~ what an amazing gift!
On September 1st, all entrants will receive a direct link to download Wyman Publishing's books.
As if that isn't enough of a celebration, Mommy Blog Designs, the blog designer with a reputation for her amazing service and blog designs, has also agreed to contribute one of her Premade Designs with full package ($269 Value) for FREE to one lucky winner!
AND to top it all off ~ we are also giving away $200 paypal cash!
So, what does this all mean? Well, EVERYONE who enters WINS free books! AND 2 who enter will win additional prizes of a Free Blog Design Package, and $200 Paypal Cash! - All who enter WIN - who could pass that up?

The prizes in this contest are not the responsibility of Loves 2 Read
. I am in no way associated with Wayman Publishing, or the sponsors in this contest. If you have any questions or comments, please see my FTC disclosure or Review Policy.