Oral Irrigator Product Review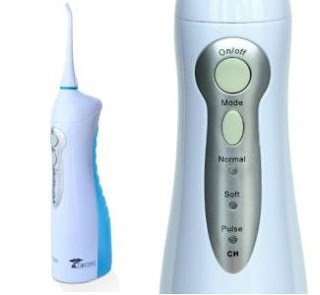 Finally there is a solution to clean where your floss can't! Professional Oral Irrigator by ToiletTree Products is able to give you the most effective cleaning in the comfort of your own home. This product is ideal for those who don't like to floss, as well as for anyone who has braces, implants, crowns, bridges or periodontal pockets. The ergonomically designed handle and 360° rotated nozzle, let you easy to control water flow to reach all areas of the mouth. The Professional Oral Irrigator by ToiletTree Products comes standard with 3 operation modes - Normal, Soft and Pulse. These are conveniently indicated on the oral irrigator handle with a LED indication. This oral irrigator has a high volume tank capacity, the water tank also has a dual design for easy water refill. Use with water, mouthwash or anti-bacterial rinses, as recommended by your dentist or hygienist.
The new Irrigator has been redesigned in the following ways:
1.
We have
converted the unit into a
Rechargeable
Irrigator eliminating the hassle and high cost of changing batteries.
2.
We re-engineered each unit so that it will last 45 + days before you have to plug it in for it to be recharged.
3.
We have upgraded the motor in order to enhance it's performance
My Review :
I have not used an oral irrigator or water pick before. When I was offered a chance to review this Oral Irrigator for Toilet Tree Products, I accepted the challenge gladly. At first I was not thrilled with water being sprayed in my mouth and all over my face as I attempted to learn to use this new device. I wasn't sure if I would like it or not, but determined to give it a fair trial. I have used it off and on now for over a month, and I have noticed a difference in the cleanliness of my mouth in the mornings. I usually use it only at night before bed, and after already brushing my teeth as usual.
The thing I like best is that I feel that my mouth is cleaner and fresher than usual in the mornings (morning breath is much less offensive - lol). Another thing I really like is that it is rechargeable. The battery seems to last for quite a while before needing recharged.
One other positive I have to mention, is that the water tank is easy to fill. It can be removed to fill, or there is a lift-top lid where water can be added while the tank is still attached.
Things I do not like, is that the head does not swivel to aid in getting between the back teeth, or back of the mouth, so I end up spraying a bit more water outside my mouth and getting a bit wet in the process. I do not know if this is a usual occurance with all water pick type devices or just this one, but it is a bit annoying.
Another issue I have is that on high setting, the water is too rough on my gums, but the low setting is not quite strong enough. I'd love to see a medium setting included.
Overall, I will continue to use this Oral Irrigator from Toilet Tree Products as an addition to my oral care regimen, and although I feel it needs a bit of improvement, I did like the overall results enough to continue using it.

I received a free product as listed in the post above for review purposes only. I was in no way required to write a positive review. All my reviews are my honest and personal opinion
. If you have any questions or comments, please see my FTC disclosure or Review Policy.