The Gruffalo's Child Review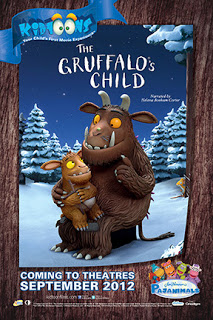 One wild and windy night, the Gruffalo's Child ignores her father's warnings and bravely tiptoes out into the snow into the deep, dark wood in search of the "Big Bad Mouse." Along the way, she meets Snake, Owl and Fox but no sign of the fabled Mouse. Described by her father as "terribly big" and "terribly bad," the mouse proves to be terribly hard to find. Does he exist or doesn't he?
This beautifully animated film based on the best-selling children's picture book by author Julia Donaldson and illustrator Axel Scheffler, The Gruffalo's Child is a companion film to the hugely successful, academy award nominated, The Gruffalo. Directed by Johannes Weiland & Uwe Heidschötter with an all star English cast that includes Helena Bonham Carter, Rob Brydon, Robbie Coltrane, James Corden, Shirley Henderson, John Hurt and Tom Wilkinson.
My Review
:
My children absolutely LOVE
The Gruffalo
, so I was completely thrilled when offered the chance to review
The Gruffalo's Child
on DVD for
Kidtoons
! Once again the creators of
The Gruffalo
have made a children's film that captivates the imaginations of children from all age ranges. My youngest is 4 and absolutely loved this movie. My oldest at age 11, thought it was a great addition to
The Gruffalo
, and enjoyed seeing
The Gruffalo
teach his child about the "big scary mouse."
My husband and I also liked watching along with our kids. I love being able to have clean, family entertainment in our home and
Kidtoons
has always provided just that. I highly recommend this movie for kids of all ages, and parents too.
For just a little taste of the amazing quality of this Movie, watch the trailer below.
About Kidtoons:
Since 2004, Kidtoons has been bringing beloved and well-known children's brands and entertainment to cineplexes nationwide. We provide a family friendly, affordable, co-viewing experience that parents can count on each month, year-round to bond and create treasured memories with their kids. Each monthly program is designed for kids 2-8 and their parents.
Kidtoons on Facebook:
#/kidtoons
Kidtoons on Twitter: Hashtag:
#KTGruffalo -
#/KidtoonFilms

I received one or more books or products in the post above for review purposes only. I was in no way required to write a positive review. All my reviews are my honest and personal opinion
. If you have any questions or comments, please see my FTC disclosure or Review Policy.