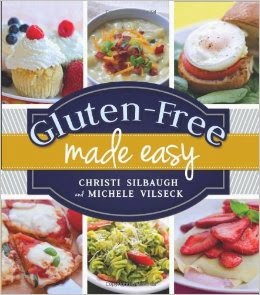 Gluten-Free Made Easy is the perfect guide to your new lifestyle! Learn dozens of tips and tricks for avoiding gluten and over 150 tasty, simple recipes like Creamy Chicken Taquitos, Margherita Pizza, and even Fudge Chocolate Chip Cookies. Going against the grain has never been easier!
Review
I am very pleased with this book. The recipes were easy to follow. For example the:Cauliflower pizza crust and cheesy bread or the Thai-style cabbage and noodles. The ingredients were majority of the time those that could be found in peoples pantries/cabinets in the kitchen, but there were a few items that would have to be purchased as the grocery store or a specialty/health food store, but they were ones that would not be of great expense to anyone. My only problem with the book is that there were no nutritional values listed after each recipe. There were pictures with each recipe that gave you an idea on how the recipe would look when prepared..

Disclosure: I received free the item(s) mentioned in this post in exchange for my honest review. Regardless ~ All my reviews are my honest and personal opinion.
I am disclosing this in accordance with the Federal Trade Commission's 16 CFR, Part 255: "Guides Concerning the Use of Endorsements and Testimonials in Advertising.".